Results of Indiana's 2015 Hottest Kitchen Entrepreneur Challenge
The judges and audience tasted food concepts of our finalists, which ranged from gourmet burgers that span the globe to pickles infused with beer and spirits. This year's top food business concepts for the Hottest Kitchen Entrepreneur Challenge were all about boosting classic flavors with a unique twist. A big thank you to our judges, who provided thoughtful feedback to all finalists, Jolene Ketzenberger, our emcee who kept everything moving and to the fabulous event support provided by Ivy Tech. Here are the results.
Grand Prize Startup Winner: Robert Carmack, The Indiana Pickle Company
Biz concept: Pickled products made with local beer and spirits using an adapted family recipe, with the goal to sell in local eateries, breweries, food trucks and stores.
Joshua Swift, uFlavor Ketchup Boosters
Biz concept: Booster seasonings for condiments that put consumers in charge of their flavor experience.  These are fun to use in recipes, can be sprinkled over rotisserie chicken, scrambled into eggs for spicy breakfast flair, used as a rub on spareribs, or sprinkled on popcorn for a new taste treat.
People's Choice Startup Winner: Casey Alexander & Dyke Michaels, Beast Food Services
Biz concept: Food truck and catering service offering gourmet hamburgers aimed at the underserved Irvington market. The goal is to offer high quality burgers and sides for lunch breaks and special events.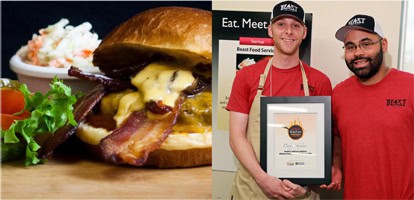 Grand Prize Early Stage and People's Choice Winner: Jon Weed, B. Happy Peanut Butter
Peanut butter with honey roasted peanuts and added ingredients like white chocolate and pretzels, milk chocolate and toffee, coconut and almonds, snickerdoodle popcorn, dried cranberries and dark chocolate. It's a taste customers rave about and the product is distributed online and in specialty stores.
April Richwine, Far Out Fred's Unique Burgers
Food truck which serves 15 gourmet "Fredburgers" featuring the flavors of 15 different countries. Burgers are served open face on a handmade bun using local ingredients when possible and organic, grass-fed beef.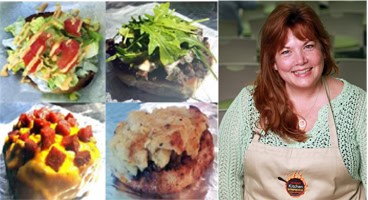 Mark McSweeney, Broad Ripple Potato Chip Co.
Regular and sweet potato chips from scratch using Russet – Idaho baking potatoes which results in a slightly darker, caramelized, more flavorful potato chip. Chips are oversized and lightly seasoned.
The grand prize winner in each category received $2,000 in seed money from Reliable Water Services, $1,000 scholarship and expert consultation from Ivy Tech Corporate College & Culinary Center, a $250 shopping spree from Zesco.com and Navigator business plan and marketing plan software from ISBDC. The Startup winner also received $500 in commercial kitchen time from Carmel's Kitchen.
People's Choice prize winners received $1,000 in seed money from Shapiro's Deli, cookware from Reliable Water Services and consultation time from Ivy Tech.
Challenge Judges:
Scott Wise, Scotty's Brewhouse 
Carrie Abbott, Newfangled Confections
Ian Kille, MCL Restaurant & Bakery
Jennifer Cheezum,  Pierogi in a Pinch
Brian Shapiro, Shapiro's Deli 
Michael Joy, Park 100 Foods 
Jennifer Rubenstein, Edible Indy 
Event Emcee: Jolene Ketzenberger, food writer and founder of EatDrinkIndy.com