Cooking with Beer 101
The next best thing to drinking beer? Cooking with it, of course!
German, Belgian and Irish heritages in the Midwest make it a common concept in the region, but the idea has spread to brewpubs and restaurants across the country. Ears perk up when they hear about a recipe influenced by beer. Not only does it give your restaurant a chance to experiment with new flavors (or your brewery a chance to test the food service waters), it can also be a good way to use up any seasonal beer stock your customers might not get around to drinking. You can find tons of excellent beer-based recipes online (start with the one at the end of this article, or find more here or here), or why not try making up your own concoction? Let's look at some reasons why you might want to consider adding a few new beer-based recipes to your menu.
What's So Great About Cooking with Beer?
Many great recipes start with wine as an ingredient. Beer isn't much different. The components of a brew—hops, yeast and grain—are often important parts of other recipes. For the most part, the alcohol cooks away, leaving the flavors of the beer intact (much like how wine reduces when cooked). The resulting flavors bring a unique challenge when it comes time to find another excellent beer to pair with the dish. Or, if a dish already has a distinctive taste, pairing it with the beer used in its cooking can be an easy call to make.
Breading made with beer offers a light fluffiness unrivaled by other batters. Fish fry cooks and chefs all over Wisconsin have known this secret for years. Fried foods are a common choice for beer batters, but other recipes can benefit from beer's effervescence, like a light fluffy crust. The heaviness of a stout, for example, makes for an excellent cake batter. Smaller batches of beer might be better suited for appetizers and desserts. For those breweries without a full menu, adding some beer-infused apps can really dress up your taproom (more than the usual salted nuts and pretzels, that's for sure).
The bitterness of hops and grains work well as an ingredient that offsets sweetness in vegetables like carrots, corn and caramelized onions. Pale ales are an excellent choice for these veggies, seeing as they bring a hoppiness that's distinct but not overwhelming. Dark beers offer a roasted flavor that can give comfort foods a real homemade kick.
Common Beer-Based Recipes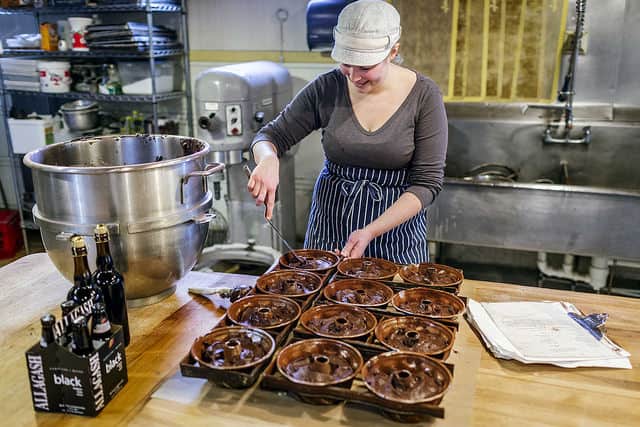 Dishes that keep beer in its liquid form are often a first step for restaurants looking to add these dishes to the menu. German biersuppe is a traditional recipe in this style, often using potato or another starch as a thickener. It was usually served as a breakfast soup, sometimes poured over bread. Some restaurants also make beer cheese dips for their nachos, pretzels and other appetizers. Both of these types of dish are excellent choices for a busy lunch rush, since they can be made in big quantities for low costs, and they work well for carryout, too. A lot of workers prefer soups or appetizers to a full sit down lunch because they don't have the time to sit down and order. This way, they can take one of these great beer-based foods back to their desk and enjoy the warmth before going back on the clock.
Legend has it that beer ("liquid bread") was used by the ancient Egyptians to feed the slaves building the pyramids. During the tumultuous years before Prohibition, some brewers even argued that beer should be exempted from the alcohol ban because it provides the same benefits as a load of bread. It doesn't take much to turn a recipe for a beer into a recipe for bread. Offering beer bread gives your restaurant a unique identity. Beer bread is great either as an appetizer or as an opening bit of food on the table. Customers love fresh-baked bread. The smell alone can often turn what was going to be a quick bite before an event to a full meal.
Beer batters are the most common beer influenced recipe. The Friday fish fry is a tradition for a reason, but that batter often finds its way into anything that's breaded and fried. Beer battered cheese curds are popular in many Wisconsin pubs, as are French fries or potato wedges. It also doesn't take much to go from a batter to a glaze. So even if you serve some great steaks, you can discover what beers might work well on the grill in addition to the ones that work as a drink next to the plate.
Cooking with beer can be your brewpub's secret weapon. Even if other restaurants in your area are offering it already, remember: no two beer-based recipes taste alike. You might already be cooking with wine, so cooking with beer is an easy step to take. You can turn boring breads into something much more personal and unique. Adding beer can balance out a recipe that's currently too sweet for your customer. Discovering how to cook with beer can be as simple as adding it to soups and dips or as complex as finding the right taste for your fried batter or main course. Your customers already love beer, so why not give it to them as many ways as possible?
---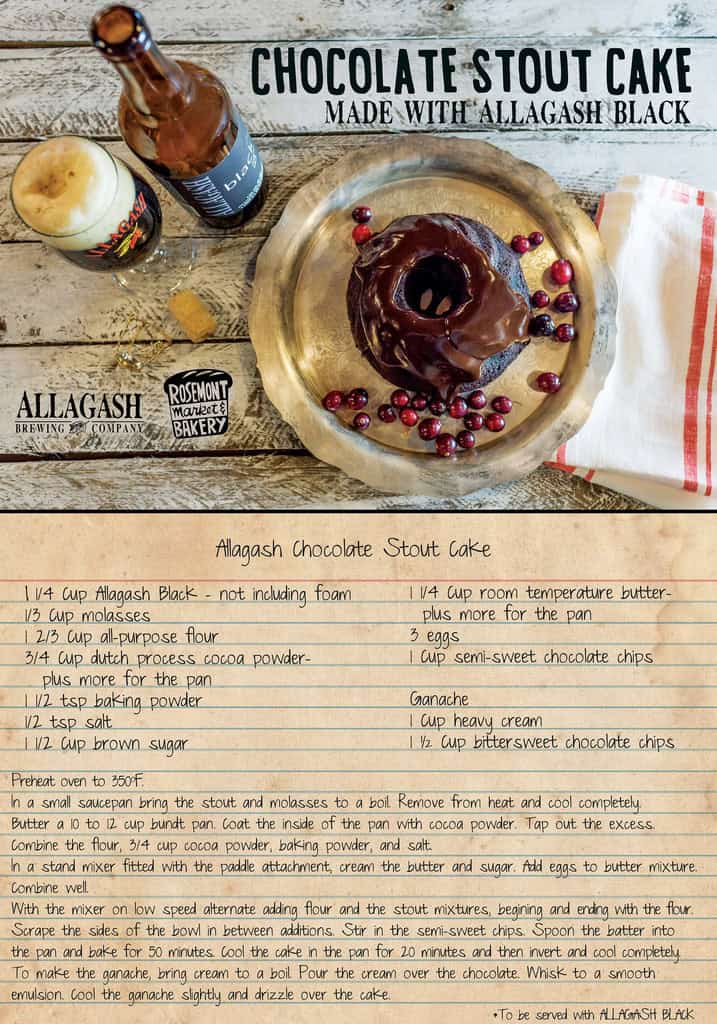 ---
Images of "Chocolate Stout Cakes with Allagash Black" courtesy of Flickr user Allagash Brewing licensed under CC by 2.0.