6 Guidelines for Restaurant Owners Reopening in a COVID-19 World
The Coronavirus isn't behind us, but we see some containment and progress. Many states have given the green light for reopening restaurants amid the COVID-19 pandemic.
But with little guidance, many restauranteurs are trying to navigate as best they can. Most of us aren't epidemiologists or public health experts, but we know we want to keep diners safe and happy. So, what are the best practices for reopening your restaurant? What do you need to know as you move forward?
One of the bright spots in the COVID-19 disaster is that it's brought us all together with a stronger sense of community. Many restaurant owners were pleasantly surprised to see strong community support of their establishments over the lockdown. Customers rallied around their favorite restaurants, ordering food-to-go, buying merch, and purchasing gift cards for later use.
While the days of Coronavirus haven't passed, restaurants are allowed to reopen with the newly flattened curve. Of course, this requires a cautious approach. Restaurant owners have been studying reopening resources and listening to experts as they figure out how they can start to serve customers and ramp up their business.
The good news is that none of us are in this situation alone. Across the world, COVID-19 living has become the new normal. The pandemic and subsequent lockdown are unlike anything we've faced before, and we're all figuring out the best way to get back to life as we knew it.
For restaurant owners and staff, it means serving people delicious food and providing an atmosphere of hospitality. As we get back to work, here are 6 guidelines for safely reopening your restaurant post-shutdown.
1. Don't Rush to a Full Reopening
When Milwaukee gave the green light for restaurant reopening, many restaurants held back. Now, for some, it was because there was very little notice before the green light (24-hours isn't enough turn-around to get staff and supplies in place). For others, they had created a phased reopening plan already and decided to follow it regardless of the "all clear." The lesson here is, no matter the circumstances, you know your restaurant and patrons best. Go at your own pace.
It may feel tempting to open service quickly, especially if competing neighbors are fully opening and seeing customers flow back inside. A critical lesson of the foodservice industry is that you should never overextend your staff or your capacity.
When customers face fewer choices, they are more sensitive to a negative experience. Many haven't dined out in several months, so when they choose your establishment, they're hoping for a great meal and atmosphere. If you can't do it right, don't do it at all. It's far better to take your time and open in phases than to disappoint customers with mediocre (or worse) food and service.
2. Provide Customers with Several Food Service Choices
If you've learned any lessons from the Coronavirus outbreak, one should be that customers appreciate options. Some patrons may feel fine with dining inside a restaurant, but many aren't entirely comfortable with a return to indoor meals yet.
Your COVID-19 experience comes in handy here. If you've established a food-to-go system over the last few months, keep it in place going forward. You've likely already worked through the kinks of the system, so this new service should be smooth.
Yes, to-go and delivery partnerships can cut into your budget. Servers don't receive generous tips. Delivery services can take money from your bottom line. But the reality is that these options have become the expectation and the norm in our new world. Whenever possible, you should continue to offer the option of takeout and delivery.
For customers that dine within your restaurant, you may want to adjust the ordering process as well. Encourage customers to place their entire order at once (appetizers, drinks, main dish, and dessert) to reduce face-to-face interactions with service staff.
3. Consider Outdoor Dining Options
Increase your outdoor dining options, if possible. Even a few small sidewalk tables can be a massive boost to your business when customers feel more comfortable dining outside over in. Not only will you be able to keep servers busier (and increase their tips), but outdoor dining is especially popular in the warm summer months when Midwesterners love to get outside.
Assess all your options—can you fire up your food truck for service in the parking lot? Can you create space on a back patio, shared lot, or front walkway? Consider partnering with the bar next door to share outdoor customer space. According to the Axios post, "Restaurants Prepare for Dining In," some creative establishments are even considering setting up tents and expanding their sidewalk dining presence.
Another factor to consider is your traffic. Keep the flow of foot traffic in mind, especially with the six feet apart guideline. How will customers pick up to-go orders? What about delivery drivers? Will customers order online-only, or can you accept walk-ups?
4. Increase Visible Safety Measures
The most important tip for keeping customers comfortable and happy is to offer many visible safety measures. If you ask that servers and kitchen staff wear masks during work, include this detail on your website and post a sign in your window. Share information about how you've spaced out your dining room and taken extra cleaning measures. Customers will notice and appreciate disposable, single-use menus, paper goods, and other items that promote cleanliness.
One study conducted jointly by Rewards Network, American Airlines, and United Airlines, assessed respondents' comfort with a return to dining out. 69% of participants said they needed assurance that the establishment's seating adhered to social distancing guidelines. 62% said they needed to know the restaurant had a policy for regularly sanitizing surfaces in the dining area.
Tell customers what measures you are taking for their safety. Diners will check your website before visiting, especially because many hours and options are continually changing. When they visit your site, they're not only seeking basic details and a menu. They will want to know what exactly you're doing to ensure their safety and prevent the spread of COVID-19.
Masks are challenging for staff (especially servers), but they're also an obvious way to show customers that you're taking precautions. Be open about your cleaning and disinfecting process. Let customers see you going the extra mile to wipe down tables, chairs, and touchpoints regularly. Yes, it may be a "peek behind the curtain" that isn't typically shared in the culinary industry, but right now, it's an integral part of conveying safety and diligence to your diners.
5. Reconfigure Indoor Dining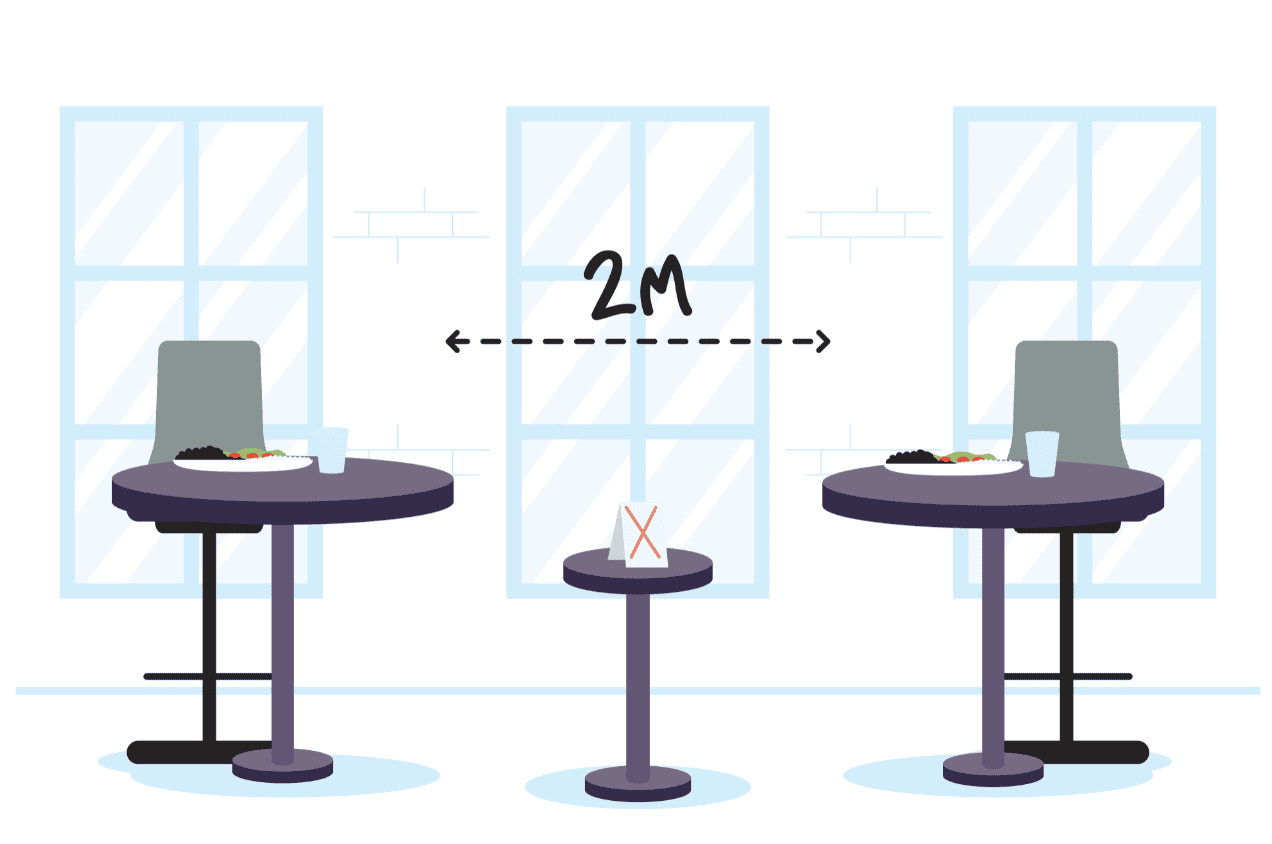 Should you decide to offer indoor dining, you should follow all the guidelines provided by the CDC, the protocols for reopening restaurants during COVID-19 from the FDA, as well as the guidance from your city and state health departments. Many hospitality affinity groups are providing advice. Right now, the guidelines may vary in certain areas based on how the virus has touched your city. Check with your local restaurant groups for the best practices in your hometown.
When you are ready to start opening your doors to indoor diners, you'll need a reopening plan that outlines measures your staff will take to ensure a safe dining atmosphere. You will need to limit traffic and create a layout spacing tables six feet or more apart to allow plenty of space in between patrons. Some restaurants have opted to remove the tables or simply prefer not to seat diners yet. Leaving space for servers to navigate shouldn't be a problem, but it's crucial to keep traffic flow in mind, especially if you are also serving customers with takeout orders.
During this time, you may also want to consider reservations for indoor dining. Even if you haven't required reservations in the past, it will allow you to keep a handle on your traffic and ensure that customers get a seat if they would like one. With tight budgets, you may prefer not to use a reservation service, but there are many options if you feel it will alleviate strain on your staff and streamline the process. Resy, OpenTable, and Tablein are a few reservation systems to consider.
Ron Ruggless of the Nation's Restaurant News interviewed expert Mandy Sedlak, food safety and public health manager for Ecolab's Ecosure division on the best strategies for restaurants reopening in the Coronavirus era. Among the many helpful guidelines, Mandy suggests texting patrons when tables are ready. This measure will help you avoid gatherings in the lobby and by the door. Plan the seating chart, and if at all possible, consider creating designated entrances and exits, to minimize contact and exposure between guests.
6. Communication is Vital
No matter how the rollout and reopening of your restaurant looks after COVID-19 restrictions are lifted, you must continue to communicate with customers and staff. During the pandemic, the owners of successful restaurants engaged with customers and their community. They shared schedule changes and information with their team, transparently. They made sure their websites were updated.
When you keep the lines of communications open for customers and staff, they feel connected and valued. They understand that they play a vital role in the survival of your establishment, and by sharing the day-to-day struggles with them, you are creating buy-in and engagement.
Most restaurant patrons are looking online, checking social media, and watching for information about your business. Share your specials online, let customers know when you're bringing back a popular favorite dish (especially if it's been off the menu for a while due to supply issues), and tell customers what's going on. Your online presence is crucial during this ambiguous time.
We're all grateful to see restaurants reopening, even while we're still amid the pandemic. As we start to navigate this new normal, food service is one of the first places people return. During the lockdown, people missed eating out with their friends. Dining out brings people comfort and joy. The hospitality industry has always been about togetherness and food, and these connections are more relevant to all of us than ever.
Reliable Water Services is Here for You
Hot water is critical to health, sanitation, and safety in general, but it's especially vital to the industries we serve—and the majority of those industries are considered essential businesses. As our customers remain operational during these unprecedented times, so does Reliable Water Services.
Making sure our customers have hot water has always been our main priority, and now more than ever, we are here for you. We will continue to provide 24/7 water heater services to our customers, ensuring you have the hot water your business relies on. Our office team is practicing social distancing by working remotely or staying 6 feet apart while in the office. Meanwhile, our service technicians and installing contractors are following extra safety guidelines to ensure they can service your building safely without putting themselves or your staff members at risk.
Our team at RWS has always viewed the relationship with each of our customers as a partnership. Through this partnership, we will work together and get through these unique and challenging times. As always, should you need service contact us 24/7 at 1-800-356-1444. Stay safe, and be well!