Ways to Support Care Staff Through Technology
Helping your staff advance their knowledge and skill through technology improves the quality of life for your residents.
Your staff keeps your business running at top speed. This network of caretakers, medical practitioners and support staff are a well-oiled machine. Every machine needs maintenance and upgrades, especially one that serves people faithfully. Your nursing home or assisted living center thrives on employees who love their jobs. The best way to show your appreciation and support is to give them the best tools available in the marketplace. Technology makes everybody's job easier, and new healthcare technologies are paving the way for care staff. By building in technological support from the bottom up, your nursing home or assisted living center will put itself head and shoulders above the rest.

The nurses that are a part of your staff—the registered nurses, the licensed vocational nurses, the licensed practical nurses—need as much help as they can get ensuring your residents receive the care they need. Certified nursing assistants certainly help, but tight staffing budgets make hiring a challenge. Administrative staff may not interact with the residents on a regular basis, but they make sure the lights stay on and everyone gets paid.
Both sides need resources for your facility to function properly. The more updated your technology, the more efficient your medical staff becomes. With more updated healthcare technologies nurses will be able to serve more residents and that service will increase in quality. Support staff technology covers a lot of ground.
Easy-to-Adopt Assisted Healthcare Technologies: Know Your Options
Your administrators need up-to-date computers to quickly process the paperwork that a nursing home or assisted living center generates daily. Your kitchen staff can use nutritional software to track the needs of your residents, including special diets. Maintenance staff benefits from instant messaging and rapid communication when something needs to be fixed right away.
Improving the education and training of your staff is just a few clicks or taps away. Educational websites and apps can teach your staff in ways that day-long training might have difficulty reaching. Some sites seek out to improve the quality of nursing homes across the country. You can use apps to send out updated rules and regulations from your smartphone. Check out how your facility stacks up to the competition, just like potential residents do. Your staff can even check out conferences they might attend and use the conferences' apps as reference guides when they return. Smartphones have plenty of applications in the work place if you know where to look.
Properly timed medication and routine medical checks are often the main reasons residents choose to live in a nursing home or assisted living center. There's plenty of healthcare technologies that can synch with patient devices that can take a lot of burden off your staff to remember the routine and focus on the personal. Automatic pill dispensers remind residents to keep their medications up to date without the need for your staff to do it. Diabetic residents benefit from choosing th
e best digital blood glucose meters. Almost everything is wireless these days, including nurse call systems.
Caregiver Networks and Resources
Your residents have loved ones who want to be kept in the loop about health and wellness.They love the people they've entrusted to your care, but they have busy lives involving day jobs and family activities.
They're trusting you to update them, and the quickest way to do that is through the Internet. Thanks to web applications like Caregiver's Touch, families can check on their residents from anywhere. Families can use CaringBridge to keep a blog and update health status. Some apps are specialized for specific care problems. Balance, for example, focuses on helping patients with Alzheimer's disease.
Every job has stress. Your staff deals with life and death matters every day. Healthcare professionals deal with that weight as best as they can, but it can get anybody down. This stress can lead to conflict between employees. You can help by directing them to a variety of online resources where they can vent their frustrations, seek out advice and network with other providers. Keeping your employees happy goes a long way to combat one the largest issues in the healthcare industry. The burnout rate amongst assisted living and nursing home personnel runs very high. Organizations like the Caregiver Action Network and Today's Caregiver provide resources for support through online interaction and education. Your caregivers might find a similar case to a troubling one at your facility or find some good tips to print out and share with the rest of the department. It's all too easy to focus on the job. Online help cuts through the isolation that healthcare professionals sometimes find even though they're in a building full of people helping each other.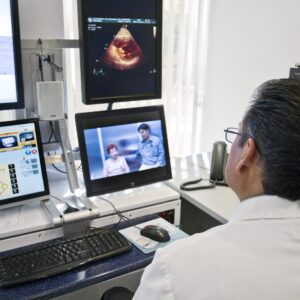 Less stress on your caregivers and administration also means safer residents. When staff is worrying about the computer systems, they don't have as much time to spend responding to the needs of your residents. Early detection of problems will save time and money. Crowdsourced websites like this one from Pro Publica are where families search when they're looking to find a trusted caregiver option. When you have the technology to back up your caregivers, they'll keep your facility in good rankings.
Keeping your nursing home or assisted living center moving forward with updated, trustworthy healthcare technologies makes it a better facility. Supporting your staff makes them feel appreciated, which makes them work harder. Administrators and medical staff get into the industry because they care a lot about other people, so showing them you care means a lot. Helping them advance their knowledge and skill through offering and supporting new healthcare technologies improves the quality of life for your residents. That's the goal of any good caregiving facility—and we hope these tips can help you reach yours.
---
Images Computer Security and Healthcare Apps for Android Tablets courtesy of Flickr user IntelFreePress licensed under CC by 2.0. All post images are licensed for use under the Creative Commons.