Results of Indiana's 2012 Hottest Kitchen Entrepreneur Challenge
On Tuesday, June 19, 2012 finalists in Indiana's Hottest Kitchen Entrepreneur Challenge competed for grand prizes at Indy's Kitchen in Indianapolis. Food biz concepts appealed to both human and canine customers.  The next day, finalists also had the opportunity to provide samples of their recipes and participate in a People's Choice judging at Bankers Life Fieldhouse during Schmooza Palooza, the Indy Chamber's largest party of the year and an energetic gathering for business professionals. (It was!)
Grand Prize Winner: Sherri Campbell, Charlie's Chillers
Biz concept: Frozen Organic Dog Treats. These doggie snacks come shaped like a paw (Polar Pawz) or a bone (Blizzard Bonz) and are available in six sweet and savory flavors that are tasty enough for humans to enjoy.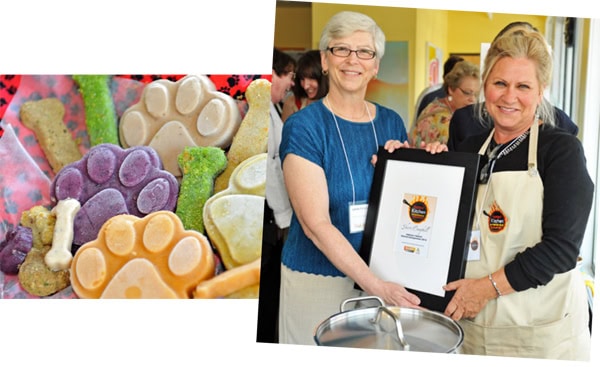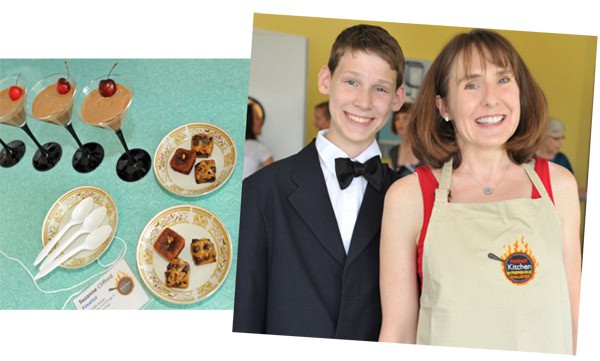 Suzanne Clifford, Brainy Kids Snacks
Biz concept: Kids and parents will love these tasty treats packed full of protein, fiber and Omega 3s. Snacks are individually packaged with fun trivia questions to increase knowledge about the brain and overall health.
People's Choice Winner: William Schmidt, SalsRA
Biz concept: A unique salsa geared towards the true spice enthusiast. The salsa starts with the sweet taste of berries, and ends with a fiery blast of a signature three‐pepper blend. His concept won the People's Choice competition during Schmooza Palooza on July 20, 2012.
The grand prize winner was Sherri Campbell, who received $2,500 in seed money  and over $500 of professional cookware from Reliable Water Services, plus expert consultation and commercial kitchen time from Indy's Kitchen valued at $500. William Schmidt came out on top at the People's Choice competition during Schmooza Palooza, receiving a big fry pan and bragging rights!
Judges for the contest included Ian Kille, executive chef, MCL Restaurant & Bakery, Emory Costanios, executive chef with Hilton Indianapolis North and Becky Eaton, owner of Becky's Healthy Kitchen in Indianapolis.