Results of Indiana's 2013 Hottest Kitchen Entrepreneur Challenge
On Friday, June 14, 2013 finalists in Indiana's Hottest Kitchen Entrepreneur Challenge competed for grand prizes at Indy's Kitchen in Indianapolis. Whether your taste buds prefer classic all-American or a little spicier global fare, this year's top food business concepts had something to offer everyone.
Grand Prize Winner: Gustavo Perrotta, Perrotta's Kitchen
Biz concept: A small restaurant combining the fusion flavors of Asian/Latin/Italian. Gustavo's entry was a Caribbean dish made from a cup of deep-fried plaintains filled with well-seasoned crabmeat and topped with guacamole.
Surisa Richardson, Surisa's Cooking
Biz concept: Distribute through grocery stores the Thai HOTburger, a tasty, spicy burger made with Thai spices and herbs with healthy ingredients like green bean, ginger, galanga and lemongrass.
Ann Delchambre, Heartland Pie Company
Biz concept: An online pie business incorporating locally sourced ingredients and specialty crust. Her entry was a ginger pear jeweled apricot pie.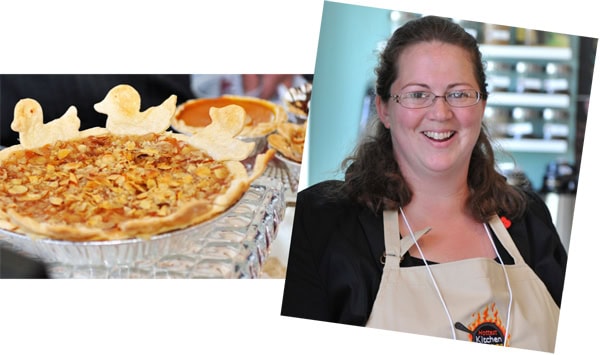 Teen Challenge Winner: Loren Martinez
Loren was awarded the teen food entrepreneur prize for his entry, Brussels Sprouts and Fingerling Potatoes, roasted in rendered bacon fat and drizzled with molasses glaze.  He showcased his recipe and was presented with $500 from Reliable Water Services, a culinary course from Ivy Tech Community College and cooking classes at Indy's Kitchen.
Gustavo Perrotta and his wife Katherine took home the grand prize: $2,500 in seed money and over $500 of professional cookware from Reliable Water Services, as well as expert consultation and commercial kitchen time from Indy's Kitchen valued at $500.
Judges for the contest included:
Ian Kille, executive chef, MCL Restaurant & Bakery
Kris Parmele, owner, Happy Go Foodie
Thomas England, Culinary Arts Program Coordinator for Ivy Tech Corporate College and Culinary Center

Scott Wise, president & CEO, Scotty's Brewhouse
Dwight Simmons, executive chef, Indy Star Chefs
Mary Beth Poe, owner & president, MBP Distinctive Catering
Brett Fife, executive chef, Lindey's Restaurant