How Aging in Place Design Can Revive Multi-Generational Housing
Aging in place design is a popular housing solution that empowers families and their senior members to aid and care for one another, under one roof.
We don't want to depend upon others for assistance when we enter our senior years, but for many older adults, this need becomes a reality. Senior living facilities have been the norm for a long time now, but that wasn't always the case. Throughout history, families across all cultures have always lived as multi-generational units. Today, aging in place and multi-generational housing solutions are rapidly becoming more common because of the many benefits provided to seniors in need of assistance and their families.
Traditional American values have long prioritized independence as not just ideal, but as a sign of success in life. Defined by milestones like moving out on our own, managing a successful career, owning a home, property, or land—independence is what Americans value.
As we age, it often becomes harder to maintain that independence. Most people don't want to leave their homes, especially not to leave for a senior care facility. American's simply don't want to surrender the independence we value so much.
Yet, it wasn't always this way. In most cultures, multi-generational living is not just normal, it's desirable. Families save money and build wealth, support one another more easily, and ultimately, assist one another with carrying the various burdens we all experience over the course of our lives.
But for the last century or so, our modern American lifestyle has focused largely on the concept of independence—including living arrangements. Modern homes as we know them today are mostly built with single-family units in mind.
In place of the old multi-generational model, we saw a rise in senior housing—nursing homes and senior care facilities, memory care facilities, retirement homes, age-restricted apartment/condo housing, and so on. There will always be a need for senior care living solutions. For some, a senior care facility is the best option.
What is Aging in Place Design?
Multi-generational housing is not a new trend by a long shot. Prior to World War II, multi-generational families were still a fairly common living arrangement in America. After the war, we began to shift away from a multi-generational living model.
However, the trend away from multi-generational housing has been reversing since dipping to an all-time low in the 1980s. People are living longer, the economy is difficult—especially alone with a single source of income—and rising costs in nearly every market make it increasingly difficult for American's to achieve the outdated idea of the American dream.
Aging adults want to stay in their homes for as long as possible. Rather than move into some form of senior care facility, most agree that getting the care and assistance needed while still living in their own homes is much preferred.
There are more seniors in need of care than ever before. Further complicating this is the growing need for a more diverse array of senior care options, and the never-ending need to fill caregiver positions.
With the Boomer generation now entering retirement age, both senior care solutions and housing demands are placing pressure on architects and designers. In response, designers are looking to the past for inspiration and modernizing it to overcome today's challenges.
Aging in place design is a fast-growing trend that optimizes the concept of multi-generational housing. From converting spaces with updates and remodeling, to simply building new homes with multi-generational family living as one of the key design features, aging in place design is changing the way both the senior care and housing industries approach senior needs.
Key Benefits of Aging in Place Design
Despite what the American cultural model has been, things are different in the modern age. Aging in place is important to seniors and their families. It's both highly desirable and (perhaps) the best solution due to the rapidly growing need in senior care.
Data supports this reality as well. Today, we see:
What exactly does aging in place mean and what does it require?
Aging in place means staying in your own home as you get older. With proper planning and the right adjustments to a home, aging in place is a much less stressful transition than moving into a senior care facility.
Home modifications for senior needs, services that provide assistance, and multi-generational housing are solutions that provide alternative options. For many families, multi-generational housing is a money-saving design choice, especially when you consider the rising costs related to senior care needs, rising childcare costs, and a host of other factors.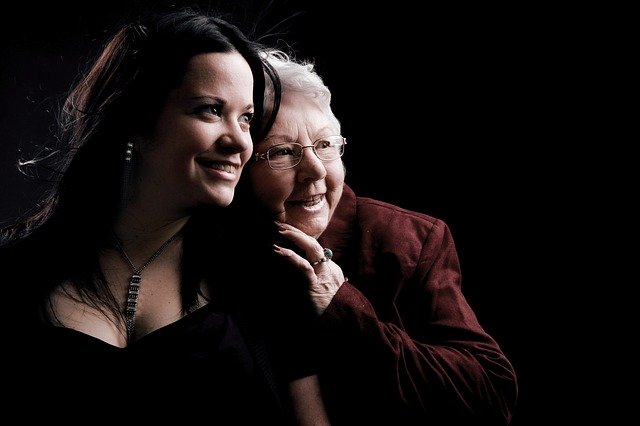 Aging in place design takes into account needs such as mobility, personal care, meals, household chores and upkeep, money management, and health care. In short, it's about embracing flexibility and support with creative solutions so that families stay together longer.
For seniors and their families, aging in place design helps to create stronger family units. From saving money to providing companionship and alleviating loneliness and generational alienation, aging in place has many positive benefits.
In response to this growing trend, the real estate industry is evolving to meet the needs of modern families. Builders are designing homes that offer separate living spaces for all family members while still living under one roof.
Larger open living areas that assist with mobility, more bedrooms, more space, separate kitchens, and even self-contained apartments within one house are becoming more common today. Even backyard homes, where grandparents may live in a bungalow in the backyard are on the rise.
Aging in Place Design Features
Whether designing a home for multi-generational housing or modifying an existing home to accommodate senior needs, builders and architects need to consider a variety of factors.
Senior-specific needs:
Open floor plans to assist with mobility concerns. This especially aids with mobility needs.
Updated lighting systems for better visibility.
Accessible entryways that don't interfere with walkers, wheelchairs, and limited mobility. This includes wider doorways of at least 36 inches.
Ramps instead of steps.
Bathroom design around senior accessibility, as well as non-slip flooring, room for maneuverability and shelving/storage that is adjustable to remain within easy reach. Grab bars must be near both the shower and toilet. A walk-in shower or tub are also important features. Room for a seated shower is another important concern.
Kitchens—like bathrooms—must also consider accessibility and ease of use. Hands-free faucets, adjustable and accessible storage solutions, lower countertops and appliances like microwaves are important features for seniors.
Bedrooms for seniors should be located on the main level of a home, and like kitchens and bathrooms, designed around senior use. A bed rail is a must, as is enough clearance around low profile beds.
Multi-generational specific needs:
In a multi-generational home, the design must address senior concerns listed above but requires additional living accommodations.
One of the most important aspects of the multi-generational home is ensuring there is enough space for everyone to live comfortably. A home can easily feel packed and overcrowded if it isn't designed well, even if there are only a few people living in it. A family home that includes both seniors and children can feel overwhelming.
Aging in place design addresses this very real concern with some excellent solutions. The "in-law" suite is an old design feature that has re-emerged as a popular choice. This apartment within a home allows families to live together while still maintaining enough space and privacy.
Common features of the separate in-law suite often include:
Bedroom
Bathroom
Kitchen
Private entrance
Separate garage
And while grandma may have her own mini apartment, this solution remains a part of the household because of shared living spaces such as a family room, den, and dining room.
Even without a separate in-law suite, multi-generational housing solutions still address these major needs and issues.
Homes built with more bedrooms, rather than designated "special use" rooms like an office or exercise room, enable more modularity in living options. A bedroom can easily be used as an office or exercise room, while the inverse is not true (bedrooms require specific items such as windows and a closet). An added benefit is home resale value tends to be higher when there are more bedrooms.
The Benefits of Multi-Generational Living Solutions
Enabling seniors to age in place benefits seniors and their families in many positive ways. It can help to strengthen families by offering care and companionship while simultaneously easing the various burdens associated with aging.
For parents with children, a great deal of money and time can be saved because grandparents are able to assist with childcare. This helps to create better social and personal bonds between youth and seniors while helping parents with the monumental job of raising children. Children are also less likely to be depressed as adults when they grow up with their grandparents. In fact, grandparents even tend to live longer when they baby-sit.
In general, multi-generational housing solutions save families money. Considering the rising costs of just about everything, this can be of great assistance to both seniors and their adult children. It's no secret that many seniors struggle to live on social security and Medicare, not to mention the costs associated with senior living communities or facilities.
Today, aging in place design is quickly growing in popularity as a modern home feature. With the assistance of an aging in place specialist, many existing homes can be modified to enable seniors to stay home as they age. Builders are evolving the way they think about home design, and more homes are being built to accommodate aging in place as well as multi-generational living.
Aging in place and multi-generational housing solutions enable families to stay together and support one another through all stages of life—something we would all prefer.
Visit our blog now for more ideas, tips, trends and best practices in the senior home care industry!
---