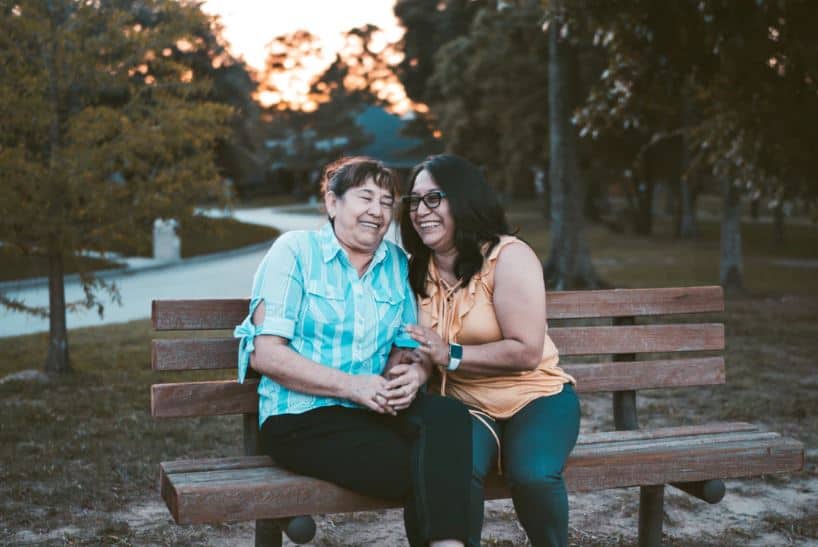 Intergenerational Programs: Great for Seniors and Community
Intergenerational programs encourage kids to spend quality time with older generations, with fun, hands-on activities.
These engaging visits with seniors in assisted living are the foundation of a mutually beneficial relationship promoting learning and growth for both parties. There are endless ways to implement effective intergenerational programs and activities to enhance the lives of the residents at your senior care facility.
As people grow older, they often experience a sense of loneliness and isolation. The life shift from independent living to assisted living is difficult, and residents may feel cut off from friends, family, and their community. Intergenerational programs are a beautiful way to ease their transition and assist with life changes. Programs allowing seniors to interact with younger generations, passing on their wisdom and insight to their young friends, while improving their own mental and physical health.
Intergenerational programs for seniors and youth are growing in popularity among schools and assisted living facilities! Next to holistic health and wellness senior care, intergenerational programs are the biggest trending topic in senior living—and for good reason. An increasing amount of people are realizing the positive impact of intergenerational programs for seniors and youth.
In intergenerational programs, the best of two generations are combined. Seniors carry wisdom and life experience, while kids and young adults understand aspects of today's society like technology and social media. Youth bring vigor and creativity to seniors and both generations can learn a great deal from one another. Not only do intergenerational programs improve the happiness and mental health of your residents, but Implementing intergenerational programming is a fantastic draw when marketing your facility to potential residents and their families.
Better still, the cost of implementing these types of intergenerational programs is quite low. Since the relationship is mutually beneficial for both children and seniors, schools are often eligible to receive grants to cover transportation and programming costs. Intergenerational programs are frequently included as a vital part of primary and secondary school curriculum.
Many community foundations now see the value in intergenerational programs and devote a portion of their allocation to supporting schools and assisted living facilities. These grants support programming, intergenerational projects, presentations, assemblies and more. With so many benefits and so little cost, implementing an intergenerational program is often a simple decision.
These special programs help seniors at your facility feel included and provide them with a sense of purpose. Life doesn't end when moving into an assisted living home and it's important older generations are valued for the important role they continue to play in the world and in the lives of young people.
The Benefits of Intergenerational Programs
If you're considering implementing intergenerational programming at your facility, it's important to understand the rewards the programs have on both seniors and students. Not only will understanding the benefits help you to promote the programming to potential residents, but it will help you connect with area schools, church, and youth groups to participate in the program.
How Intergenerational Programming Benefits Seniors
Implementing intergenerational programs into your facility will foster a more positive, happier and healthier environment for everyone—the residents, of course, and even staff!
Seniors who participate in youth programs often get more activity and exercise. Even residents with cognitive or mobility issues benefit from the added activity and stimulation. A study conducted by Senior Lifestyle found seniors who spent time with younger generations burned 20% more calories and performed better on memory tests.
The benefits of intergenerational programs really shine when it comes to seniors' mental and emotional health. Seniors who participate in intergenerational programs report more happiness and satisfaction with their situation. Not only do they value the positive companionship and interactions with children, but the programs often help seniors feel valued for their contributions to the community.
Children are often more carefree and embrace an In-the-moment mentality, which bodes well for seniors, reminding them it's okay to continue dreaming and imagining what they want in life. Embarking on a new chapter when moving into a senior care facility is an intimidating change for many seniors; these valuable interactions with younger members of the community help with the transition.
How Intergenerational Programming Benefits Students
Intergenerational programs positively impact the lives of younger generations as well. Seniors provide a familiar connection and offer a strong role model kids look up to and admire. Students often connect with the residents and form bonds that are very valuable to them throughout their lives.
Senior Lifestyle found children who spent time with older individuals were 46% less likely to use illegal drugs. When young kids spend time with seniors, they get a new kind of role model and friend unique from any other person in their lives.
For many children, the seniors act as a surrogate grandparent, particularly if they're lacking a stable senior figure in their family world. Thanks to intergenerational programs, children are given the opportunity to form solid relationships with older individuals and receive the benefits of their wisdom and insight. Intergenerational programs allow children the chance to see what it's like to have a grandparent in their life.
Spending quality time with seniors means young people get a chance to learn about life through a different type of lens; they gain a better understanding of aging. Often younger elementary-aged kids are shy or scared around seniors at first, because they aren't familiar with medical needs like oxygen or wheelchairs. Seeing that seniors are friends to value and respect will help the children become better adept at interacting with all types of people throughout their lives.
On the surface, it may seem seniors and kids have very little in common, but, there are many ways they can connect and form valuable friendships. Seniors are often unrushed, patient and calm. They're happy to learn and discover alongside their younger friends. Today, schools and facilities who offer intergenerational programs are praised for taking a positive step towards bridging the gap and highlighting aging in a new light.
How Intergenerational Programming Benefits the Community
Intergenerational programming has clear benefits for youth and seniors, but it also has a strong benefit for society-at-large. Older adults pass down cultural traditions, so they're preserved for future generations. Often this helps youth form stronger identities and realize the benefits of embracing all members of their communities.
Senior and youth programs often promote an atmosphere of coming together, creating, volunteering and contributing to the world around them. Whether seniors and students are planting a garden together, working on an art project, sharing stories, or learning a handicraft, their collaboration benefits the facility, school, and community.
Intergenerational programming helps all parties dispel negative stereotypes. The programs promote tolerance and understanding for the participants, staff, friends, and family.
Popular Ways to Incorporate Intergenerational Programs
With all the positive benefits of intergenerational programs, implementing them at your senior care facility seems like a win-win for all involved. The main challenge is knowing how to begin setting up the program, creating value, and ensuring consistency and longevity of the program.
Choosing the right kind of intergenerational programs to offer at your retirement home is tricky. Luckily, several types of programming are proven to be the most successful, especially for those new to intergenerational activities.  Here are great intergenerational program options to begin:
Teens & Older Youth: Running Errands Together
Encourage teens and older young adults to spend time with seniors by running errands together. These errands may include grocery shopping, doctor appointments, trips to the library or park, and post office drop-offs. For seniors with limited mobility, students provide companionship and assistance. Even if the young adults can't yet drive, they could simply accompany seniors on the errands to provide company and companionship.
Running errands together is also the perfect time for great conversation. Teenagers and young adults face big life decisions like where to go to college, what to major in and where to live after school; older generations with more life experience can offer useful advice to younger generations, helping them feel less stressed about their future.
Elementary & Middle Schoolers: Learning Time
Intergenerational programs bringing seniors into the classroom or bringing students to your senior living facility are the most common. Typically, residents or students are transported via bus to the school or facility. Together they work with teachers, programming directors, and staff to participate in structured learning activities. Older adults may read stories to the kids, share their talents, or even teach a lesson on their own!
Students love hearing stories read aloud and reading to their older friends is a great way for new readers to brush up on their skills. Older students may enjoy reading a book with their senior friends and discussing insights or working together on a related project. Arts and science programs often provide hands-on learning opportunities. Both seniors and students may also enjoy listening to presentations from other community groups like the Audubon society, wildlife rescues, or garden clubs.
Daycare Centers: Connecting the Old and Young
Partnering with a local daycare center to provide visitation opportunities gives seniors a chance to connect with the youngest community members—something very fulfilling for many older adults. Many preschools and daycare centers are forgotten when it comes to intergenerational programming, but the benefits to all participants are well-worth the effort.
The Providence Mount St. Vincent Assisted Living Facility in Seattle has a one-of-a-kind Intergenerational Learning Center that combines a child care preschool with a senior home. This allows for children to create meaningful relationships with "surrogate grandparents" and for seniors to feel a greater sense of purpose and joy from interacting with babies and toddlers.
Successful Intergenerational Programs Will Change Lives
As the owner of a senior living facility incorporating intergenerational programs will benefit both younger and older generations. Intergenerational programs positively impact entire communities by bringing together different types of people who learn to understand and appreciate one another.
The benefits to senior living facilities are great. Not only will you offer an appealing program for potential residents to consider, but you'll see huge benefits in the mental health and well-being of your current residents as well. Best of all, many intergenerational programs cost little to implement and involve a simple outreach to your local public or private schools, churches, and youth groups.
Intergenerational programs help older generations feel included and live a happier life. Consider incorporating at least one of the activities mentioned above or creating your own intergenerational programs to see a real difference today!
---
Featured image by Dario Valenzuela. All images licensed for use via Unsplash.