Low Cost Ways to Improve Your Rental Property
Until the time is right to put some big money back into your rental property, you can improve the look and feel of the building by making small, inexpensive enhancements.
Rental property improvements are never a bad idea. An updated look often lures in new tenants, while current tenants appreciate seeing maintenance staff around fixing pieces in public areas. The challenge of property improvements is mostly cost. The time spent fixing something up plus the cost of the materials can really cut into a budget if not properly considered. On the other hand, it's possible to recoup some serious revenue if those improvements lead to great tenants who stick around for the long-term. Let's take a look at more than 10 great ways to spruce up a rental property for prospective tenants.
A fresh coat of paint does wonders for any apartment. But there are many more ways to update the look and feel of an old unit, or add a touch of uniqueness to spaces that might seem overwhelmingly bland. Some of these repair and maintenance expenses may even qualify as a capital improvement expense, of course you will need to double-check with your accountant before deciding how to classify anything for tax purposes. If you need to brush up on your accounting and tax lingo, these links on capital improvements and repair and maintenance expenses might come in handy when considering the types of repairs, upgrades or major renovations you should consider.
10 Easy & Affordable Interior Rental Property Improvements
Sure, you'd love to swap out all of the older appliances in your apartment units with the newest stainless steel models. And you'd happily remodel each of the bathrooms to include rainfall shower heads and jacuzzi jet tubs – if it didn't cost an arm and a leg. So what can you do to improve the look of your rental properties, even if it's just a small gesture?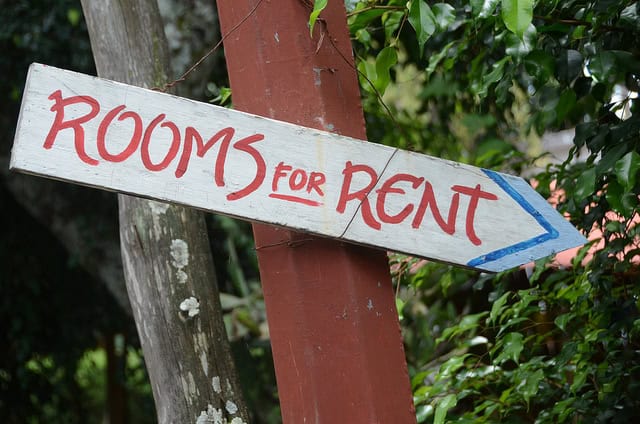 1. Replace old hardware and fixtures.
This can be everything from door handles to drawer pulls and from shower curtain rings to toilet seats. Consider the handles in bathrooms and kitchens – do they look worn out and discolored? Are they mismatched or otherwise in disrepair? Do toilet seats and seat covers have cracks or unidentified markings? When it comes to easy home improvements, old hardware is at the top of the list.
 2. Replace light switch plates and outlet covers.
It can be tempting to paint over old light switch covers and outlets, or to keep the same ones around until they become an off-color, dingy version of their former selves. But people notice details when apartment hunting, and sometimes those little things make the biggest difference!
Fixtures are generally inexpensive, and can usually be replaced quickly by your maintenance staff. You may even find great deals on fixtures at a place like the Habitat for Humanity Restore to cut down on your purchase costs. Fixing fixtures also lets your staff take a look at the general condition of the furniture in your building to see if bigger property repairs are needed. Fixing a drawer pull might reveal a water leak in the kitchen, or may prompt a tenant to bring up other issues they might be having. Happy tenants are better advertising for a property than any newspaper ad.
3. Change up your window treatments.
New blinds or curtains can give your building a whole new look and feel. Shades keep your tenants rooms darker and cooler which cuts down on energy costs in the summer. Blinds allow tenants to adjust room light to their specifics but can be costlier to maintain and replace. Treatments can change the feel and look of a room just as much as a new paintjob without the messy time and effort. Rather than worry about repainting a room, just take a moment to change the available light. One popular option today are fabric blinds, which are more expensive but a drastic step up from the usual vinyl blinds.
4. Save money on your water and sewage bills and increase tenant satisfaction by adding a recirculating pump.
"Circ pumps," or recirculating pumps are a piece of water heater infrastructure that often gets overlooked, but can have big advantages when it comes to both cost savings and happy tenants. You can read a thorough explanation of circ pumps here, but in summary a circ pump is essentially a motor and fan that work to keep hot water moving (or circulating) through your system. The benefit of keeping the hot water moving is that it remains more easily accessible to all of your tenants – not just the ones closest to the water heater.
You can think of it like this: if you have 20 units in a building, someone in that group of 20 is last in line for the hot water. When that person goes to take their morning shower, without a circ pump it's likely that they are waiting five to seven minutes for that hot water to get to their unit. Which means that while they are waiting for hot water – with the faucet on full blast – perfectly good water is just flowing down the drain. Water that you are paying good money for – both to receive and to dispose of. Now imagine that the water heater is located in the middle of this building – how many units are impatiently watching their water, and essentially your money, flow down the drain each and every morning?
Circ pumps are relatively inexpensive to purchase and install, and you will more than make up for the cost in savings on your sewage bill and water bill. Not to mention that your tenants will thank you for an extra five minutes in the morning!
5. Add shelving or storage in the kitchen and bathroom.
Anyone who has been a renter has probably wanted more storage space, and oftentimes kitchens and bathrooms are the biggest culprits. Mounting inexpensive shelving to empty wall space or even the inside of a closet door can be a big help. In the bathroom, there's often space above the toilet for a small shelf. In the kitchen, consider hanging up a magnetic knife strip – it's a cheap detail, but a nice touch which could add a lot of value for the right tenant.
6. Replace kitchen and bathroom faucets.
Faucets can take a beating from soap scum and hard water, and sometimes it can be easier and cheaper to replace these pieces rather than try and get them clean. Additionally, old faucets can contribute to an outdated look, but a new faucet with a sleek design and modern finish can quickly help to bring a space into the current decade. Keep in mind it's possible to replace just the faucets and handles without replacing the entire sink, but you'll need to make sure your new faucet fits into the old unit! Getting a closer look at some of your plumbing can also be a way to see if other repairs to the property are needed.
7. Paint kitchen cabinets.
In the past, sanding and priming were a necessary part of painting kitchen cabinets, but thanks to some advances in home improvement painting kitchen cabinets need not be the humongous job it used to be. Check out products like gel stains and oil bonds, which let you skip those two time consuming steps and move right onto the painting! You still have to clean the cabinets first, and doors must come off and drawers must come out. But a good paint job can last you ten years, and when it comes to affordable home improvements, updated kitchen cabinets are priceless.
8. Replace the doors, or paint them for a big improvement.
Shabby, old doors can give an immediate, negative impression. Pick up new doors for under $50 apiece at your favorite big box store, or again try a place like the Habitat for Humanity Restore. If you don't have the money to buy new ones, a fresh coat of paint will work wonders also.
9. Paint or replace trim and baseboards.
Maybe you don't have time to paint all of the walls in your units – after all it is a time consuming job. But have you taken a good look at the baseboards and trim recently? Is it discolored or stained from years of poor cleaning? Baseboards especially tend to collect dust, grime and scuff marks that may become perma-dirt over time. Taping the walls, covering floors and wiping down the trim's surface are probably the most time consuming parts of painting trim – once that's done it takes minutes to run a brush over such a small area!
10. Tile a small space like the entryway.
Of course new flooring can be a great move when it comes to remodeling, but replacing 20 kitchen floors will never be cheap, no matter what type of flooring you use. However, apartment entryways are generally small, and a little bit of nice-looking tile can go a long way when it comes to first impressions. And while we're on the subject of entryways – consider hanging up some coat hooks if your units don't already have them. Coat hooks are another bonus storage item that your tenants will use and appreciate!
Maybe you do have a bit more money to spend, and you'd like to upgrade some appliances like the refrigerator or stove. Or maybe you've been considering adding a laundry station to your apartment's offerings. Upgraded appliances are a great way to attract tenants who are invested in the place they live. They will definitely notice the effort you are making to create an improved living space!
If you are wondering which appliances you need to provide in your rental property, this guide can serve as an easy reference for landlords looking to understand which rental property appliances you should consider supplying to your tenants. It is actually not required for landlords to supply any appliances, but in today's rental market it is generally assumed that your tenants won't bring their own major appliances with them. In order to meet most tenants expectations, landlords should be prepared to supply a stove and refrigerator at bare minimum.
Lobby Lovin'
Does your building have a lobby? If so there are a couple of rental property improvements you can use in this public space to improve your chance of impressing prospective tenants, and keeping current tenants pleased with their choice of dwelling.
Scent memory is the strongest memory people have. Connect a scent to an experience, and the memory will be strong. Make this biological fact play to your advantage by setting up some scented candles in your lobby or rental office. Find a pleasant scent that reminds potential renters of home and they will think of your building fondly. What scent is the best to use? Here's a hint: everybody likes cookies. The scent of freshly baked cookies connects to the nostalgic part of nearly everyone's brain.
The right indoor plants can immediately improve the look of your lobby or any communal space in your building. Check out home and garden stores for plant sales – they happen more often than you might think. And it doesn't matter if your space is low on natural light – there are plenty of indoor houseplants that don't need a lot of sunlight to survive.
Simple External Improvements
Well-maintained grounds go a long way towards catching the eye of potential renters. Make sure your grass is cut, your external fixtures are in good states of repair and that any trash gets picked up on a constant basis. Every season has its trash, be it grass clippings, leaves, or waste buried by the snow. Timely removal of this waste lets the tenants know you're working to provide them with a clean space to live and it lets you adjust to the needs of the property.

Once you're done keeping it clean, start keeping it green. Replacing your external lights with more eco-friendly bulbs is easier than ever. Big box stores often have big bulk sales of long-lasting bulbs. Take advantage of one of these bulb sales and replace the lights in your external spaces as well as your hallways and common areas. Besides saving you money, these bulbs can be a sales point for your rental. The distinctive shape of many of these bulbs will clue in those potential tenants who put a priority on environmental friendliness that you care too. That attention to detail can be the difference between a sale and a pass.
The old saying says there's never a second chance to make a first impression. Your front door says a lot about your property. Replacing your door puts a fresh face for new tenants. The new door doesn't have to be flashy or expensive. A door without scratches and dents makes the place feel new, or at least, newly renovated. Replacing doors on rentals can also add a fresh feeling, but make sure you get replacements done quickly.
Little things like new mailboxes and new apartment numbers can also make a big impression, along with being cheap home improvements. And if you have the space for flower boxes, shrubs or trees, install and plant them! Everyone likes something colorful and green to look at, and these landscaping additions can instantly elevate a property.
A Stitch in Time…
Some of these suggestions fall under the heading of preventative maintenance. Taking time to fix small things now means it's less likely to need a big repair down the road. Putting your maintenance staff on a regular rotation of small repairs lets them catch problems before they become disasters. Fixing a fuse now is just a buck or two. If that fuse causes a short which damages your electrical grid that might require an electrician to come out on a weekend and keep your tenants without power for a few hours. Keeping costs low means being proactive and keeping an eye on the small details.
Rental property improvements can seem like an endless drain on your money and time. Small improvements can make a big difference, not just to new tenants but to current ones as well. New window treatments can make rooms look like they've just been repainted without going anywhere near a brush. Replacing fixtures in the kitchen and bathroom bring the feel of a fresh renovation without the headaches. A pleasant scented candle can make any apartment feel like home. Keeping your grounds clean, updating to eco-friendly bulbs and a new front door make excellent impressions with potential renters. All of these small steps can be taken in the name of preventative maintenance. The small things add up and hopefully, if you take the time to do the math, you'll reap some big profits in the end.
---
Image "Gordon's Lawn Care"  courtesy of Flickr user Neal Scroggins;
Image "For Rent" courtesy of Flickr user David Amsler licensed under CC by 2.0.
Featured image courtesy of Flickr user Moyan Brenn licensed under CC by 2.0.