How to Create Senior Care Partnerships Beyond Your Facility Walls
Alternative options for senior care are becoming more common.
This is a reality that will impact how senior care facilities practice business in the future. Partnerships with other organizations will give your business more ways to connect with the senior community and their families while creating new revenue stream opportunities.
The need for senior care is increasing—as the Boomer generation ages, people are simply living longer these days.
There are already plenty of options for senior care, but many of these solutions need to be updated and reimagined. Nursing homes are less-than-attractive solutions to many families, and with the increasing senior population in need of care, demand is rapidly outpacing the number of facilities.
Even if building enough senior home care facilities to cover every senior were possible, the fact remains that this isn't the correct solution for all senior care needs.
Caring for our elderly loved ones presents challenges that are difficult to confront, expensive to maintain, and can be physically, mentally, and spiritually draining for the family members responsible for finding and overseeing quality care.
The need for sustainable, realistic, and better solutions is driving people in the senior care sector to think creatively about alternative care for seniors.
We've been hearing more about senior care solutions that go beyond the walls of your traditional senior care facility—senior care partnerships that bring the community to your facility. These are just some of the alternative senior care ideas that are being explored, and even more solutions will emerge as the need grows.
For most seniors and their families, the choice of transitioning into a senior living facility is a challenging one. The loss of independence and community involvement can be detrimental to your loved ones. Senior care facilities with partnership programs and a strong community connection are enticing and sought-after features.
What does this mean for your senior care facility, both now and in the future? How will your business adapt to these coming changes in senior care?
An excellent way to expand your senior care beyond your facility is through partnerships with various organizations—local and beyond—that act as a natural progression, providing a path traversing the various stages of a person's life as they age.
Building partnerships beyond your facility walls is precisely the type of creative thinking and problem solving that will be required as senior care solutions become the new normal. Here are a few senior care ideas to help you determine what options are best for your senior care facility.
3 Senior Care Partnerships to Expand the Services of Your Senior Care Facility
Life Enrichment Partners
Extending your senior care services beyond your facility's walls can mean many things. Perhaps your equipped, certified, and qualified staff can travel out into the community to provide senior home care services. While this may not be a service your senior care facility can provide, the concept of creating awareness through partnership to grow your business is still very much achievable.
Partnerships can offer a variety of benefits to your brand, your residents (in-house and at home), your staff, and your community.
First, many of these partnerships work to connect people in the community with one another across generations.
As a senior care provider, you know that your residents quite literally have a lifetime's worth of experience, skills, knowledge, and wisdom. For many, transmitting this accumulated knowledge and experience to younger generations is not only important but an extremely rewarding and satisfying life goal.
Whatever partnerships you pursue and grow, they should involve the life experiences of your residents in positive ways. This is life enrichment.
Improving the lives of your senior residents, while getting them involved and more connected with the communities that they live in, should be your first priority. However, this also happens to be mutually beneficial to your business's success as well.
Partnerships and Education
The senior years of a person's life are an excellent time to focus on continuing education, learn new skills, and take classes on subjects of interest. Seniors tend to have a great deal of "free time," and spending that time teaching or learning is very important to them.
Therefore, providing your senior residents with ways to connect with their communities through educational partnerships offers many opportunities.
Education centers such as local universities, technical and trade schools, libraries, community centers, the YMCA, and even local clubs such as 4H, Rotary, Lions, Kiwanis, and Boy/Girl Scouts all provide opportunities for partnership programs.
Many universities and technical schools offer discounted programs for adult education. Community centers and local clubs often provide multiple avenues for seniors to transmit their knowledge to youth in a variety of ways.
In partnering with universities, you provide your seniors with a way to continue being engaged in the local community while learning. Perhaps there are specific skills or topics of interest that a senior now finally has time to explore. Art, music, and literature are always popular with adult education, but so are learning more technical skills related to computers, and even programming. The opportunities here are endless. Education works to stimulate and engage your seniors while providing an avenue to be involved in the community in positive ways. The first step is to reach out to your local programs.
Partner with a local youth organization to host a regularly scheduled learning program. Interested residents could sign up and teach informal classes based on their experiences and skills such as cooking, woodworking, art, music, or anything else. They could even volunteer to read and/or tell stories at the local library.
If your senior care facility has the resources and space, many of these partnerships can also be hosted at your facility. Youth organizations are an especially good partner for this. For your senior residents, this can be a joyous experience, and something many look forward to.
These partnerships also work to create potential revenue streams for your senior home care facility through community involvement. No matter what sort of program you devise and partner with, educational experiences provide agency, value, and a deep sense of gratification for both your seniors and the larger community beyond your facility's walls.
Community Volunteer Programs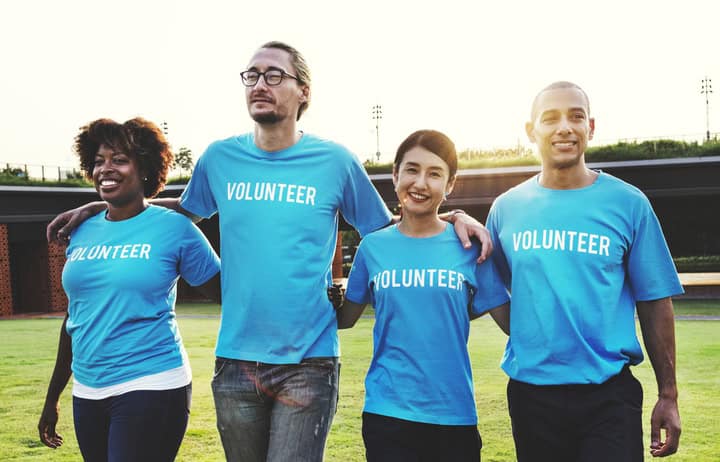 Speaking of community partnership programs, volunteer options go well beyond educational opportunities.
Building partnerships with local volunteer-based organizations is another great way to enrich the lives of your senior residents, connect with your local community, and create more awareness about how awesome your senior home care facility is!
Many of your local organizations have a variety of volunteer options for partnerships. Libraries, community centers, and youth organizations offer a wide array of volunteering options.
Other organizations such as Habitat for Humanity, Big Brothers/Sisters, AARP, Making a Difference Foundation, and Volunteers of America are great places to start. Even though these organizations operate on a national scale, they all have local chapters that work to directly impact the local region.
These partnerships are perfect for finding the right volunteer opportunities for senior residents. From helping at a local soup kitchen to women's shelters, organizing and chaperoning youth events, these volunteer opportunities provide a win for everyone involved on every level.
By providing your senior residents with opportunities to volunteer in the local community, you can help to enrich their lives on many levels. And because this volunteer work is in partnership with your senior care facility, you're also promoting your business in very positive ways.
Community involvement is a critical component of your business's success, and partnerships are a key component of this.
As a senior care provider, it's your responsibility to both oversee and ensure the quality of life for your senior residents. Simply administering medical attention in an assisted living setting is not enough.
In fact, many senior living care facilities try very hard to find activities to engage their senior residents that will occupy their time, but not necessarily impact the local community as a whole. While it's true that providing a variety of activities to your senior residents is important, giving them outlets that will truly enrich their lives will always win out over a bingo or trivia game.
Visit our blog for more ideas, tips, trends, and best practices in the senior care industry!
---
Featured image and post images licensed for use via Pxhere.