Furnished Apartments: Good Idea or Bad Idea?
Is the extra money and effort it takes to furnish an apartment worth the work?
Property owners often make tough decisions as to what perks they offer their renters. For many years, utilities-included rental options (heat, energy and water) were a competitive advantage. Nowadays, additional specialized markets have arisen to address more specific renter needs (like small-space studios), so property owners must adapt and offer new services to fit these changing market needs. One such marketplace is fully furnished apartments. Some renters don't want the hassle of moving furniture into an apartment or worrying about choosing décor. Others have temporary situations, like work or school, which makes a fully furnished apartment very appealing. But is the the extra money and time it takes to furnish an apartment worth it for landlords?
What Does a Furnished Apartment Mean for A Landlord?
A furnished apartment is just as it sounds – an apartment where the landlord provides most, if not all, of the furniture for an apartment. However, the term "furnished apartment" does not necessarily provide a hard and fast list of what is actually included. As the landlord, it's up to you to decide what you want to include in your furnished apartment, although there are some guidelines to follow. In general, furnished apartments should include the following, room by room:
Kitchen: All large appliances (stove, oven & refrigerator), additional small appliances (microwave, coffee maker, toaster or toaster oven), flatware, dishware & cooking utensils.
Bedroom: Bed, dresser, nightstand.
Living Room: Sofa, coffee table, end table, television.
Bathroom: Shower curtain & floor mat.
Dining Area: Table & chairs. (Should go in the kitchen if there is not a separate dining room.)
Some landlords will choose to expand upon that list, including placemats, napkins and other place settings for the dining room or kitchen and other small items like trash cans, lamps, stereo systems, alarm clocks and even artwork.

Who Rents a Furnished Apartment And Why?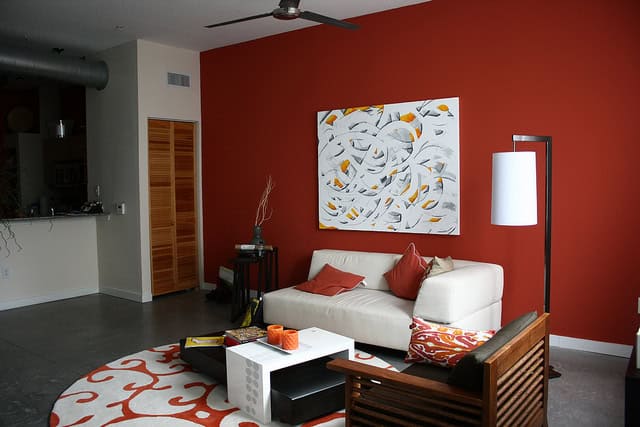 Furnished apartments appeal to a range of tenants, however the most common types of people are either students, people traveling or on a sabbatical, business people who are working away from home and people new to an area who are eventually interested in buying a property but want to explore the area in person first.
Furnished apartments are appealing to anyone who plans to stay in town long enough to want more than a hotel room, but may not stay more than a year and are not immediately interested in owning property. This could be anyone from a relative who doesn't want to impose on their family to a businessperson managing projects over a few months, or a student who is fresh out of the dorms with very little furniture, or one who has travelled far to attend school and didn't want to bring a U-Haul full of belongings. The last thing these students need is to go into debt from having to furnish an apartment all at once.
For each of these cases, purchasing furniture just to move it all into an apartment and move it out again within the year makes little sense. Additionally, moving is a very stressful time in a person's life. The more to-do items that can be taken off their plate, the easier a move can be. Not dealing with movers or big pieces of furniture can make a furnished apartment seem very appealing. These will be short-term tenants, but they will have budgeted for a fully furnished unit because to them it's a necessity rather than a convenience.

The Pros of Furnished Apartments for Landlords:
1. You can charge more for rent if an apartment comes furnished.
Simply put, furnished apartments cost more because people are willing to pay for convenience. You need to do the market research in your area to find out exactly how much more you can charge. You want to aim for a monthly rental fee high enough to cover the extra items provided, but not high enough to price the unit out of the market. Keep in mind that it can be tricky to find the sweet-spot and might take some trial and error. The amount you charge can vary by length of lease (1-month stays should cost more per month than 6 month stays, for example.)
2. Furnished apartments require a higher security deposit.
An apartment full of furniture (that you have bought for the space) is going to require a little more protection in the form of an increased security deposit. You want to make sure there are funds in place to cover torn sofa upholstery or a broken toaster oven. You may also consider adding a lease addendum to provide an even greater amount of protection for your property and reduce the "gray area" for you and your tenants.
3. Reduce the chance of damage to your property from moving heavy furniture.
Not moving large, heavy, awkward pieces of furniture in and out of your properties means less scraping, banging and overall wear and tear on your walls, floors, doorways and trim. You can save money and time by not having to touch up paint or remove scuff marks from floors.
4. Offering furnished apartments will help you narrow down your target market.
Again, furnished apartments appeal mainly to a few specific types of people. By understanding who wants a furnished apartment and then narrowing that even further into the categories of student, business person, or short-term/new resident, you can direct your advertising dollars exactly where they need to go to reach each of these types of people.
5. It gives you the opportunity to target different types of tenants and provide different options.
In addition to helping you better target your ideal renter, offering a furnished option can help you expand your reach to different types of tenants. Say you have several units that are similar, and it's tough to keep them all rented at once. Consider furnishing one or two of them to attract the types of people who might want that kind of convenience. Furnishing an apartment, especially if it's done in a comprehensive way, can also open up the vacation market – a market that is becoming much more popular with the advent of sites like Airbnb and VRBO.
6. Furnished apartments offer a creative way to rent those small or awkward spaces.
Oftentimes people can't quite see how their stuff would fit into a small apartment or a strangely shaped or configured one. By taking the time to find the right furnishings for these kinds of apartments you can make the space much more appealing to renters.
7. Staging your apartments makes them more appealing to potential renters.
By choosing furniture that compliments the apartment, you automatically have an improved opportunity for visual marketing. Furnishings make photos of the apartment much more appealing, allowing people to see what their lives might look like in one of your apartments!

The Cons of Furnished Apartments for Landlords
1. Furnishing some or all of your units means more of an investment on your end.
More things IN the rental unit means more things that can be damaged, destroyed or fall into disrepair. It can also mean more things to clean between tenants. In general, furnished apartments can mean more things to add to your maintenance schedule, and more pieces overall to manage. Preventative maintenance can help, but if a tenant trashes a piece of furniture, it's up to you to replace it (a higher security deposit will make that replacement easier). Simplifying the headache that can be caused by damage to the furniture is another reason to consider adding an addendum to your lease.
2. Tenants that seek furnished apartments aren't likely to stay for the long-term.
Renters looking for furnished apartments are often looking for another big feature: a short lease. Many furnished apartments owners offer leases for less than a year or even month-to-month. Furnished apartments are often viewed as temporary housing during a transitional period in a person's life. Beyond travelers and students, these apartments are often desired by people who have just made big life changes like starting a new career in a new city or dealing with a divorce. They might have also had big life changes thrust upon them, like the death of a loved one. So, while you'll be able to collect a higher premium per month, you'll be working harder and more frequently to fill your space up with new renters.
3. All tenants might not want to keep the furniture you provide.
It's possible that occasionally you won't be able to rent your apartment with the furnishings, or someone will be interested in some but not all of what you have provided. This means you could be stuck putting furniture into storage, or moving it back and forth. These activities all take time and could cost you in storage fees.

Does It Make Sense to Furnish Your Properties?
Furnished apartments only make sense if there are tenants available to rent them. Here are some questions to consider.
Is your location right for furnished apartments?
Properties located near a college make good candidates for furnished apartments. Anything within walking distance is an obvious choice, but also consider locations on major transit lines to the school. College towns can have a bit of a larger radius, but remember: most students that can't afford furniture may also have some trouble owning a reliable car.
Properties located near downtown business districts or other corporate centers can also be good places to attract tenants in town for work because convenience continues to be a key factor for these individuals. In general, properties that offer amenities in terms of location will probably work best. If you are near to attractions, public transit or other features your city has to offer, be sure to mention them in your listings.
If you are interested in the vacation rental market, it's important to consider what kind of destination your property and your location offers. Furnished apartments near an airport may appeal to many traveling renters. Sometimes, your renter might want a place to relax, repack and get ready to head out on the next plane. Locations near other modes of transport can also reflect these ideas such as those by bus or train stations.
Do the right potential tenants exist in your area?
If your properties aren't in an area with students or a lot of people who travel for business, you might not want to jump on the furnished apartment bandwagon. In that case it might be best to stick to offering a more traditional, unfurnished apartment.
Does the market allow you to charge more?
Renting furnished apartments can make good financial sense, allowing you to charge anywhere from 25% to 300% more depending on the length of the lease. But it's important to be sure your market can support this increased cost BEFORE you go spending money on furnishings.
Match your furnishing to your market.
This is especially true of college students vs. business professionals. College students want comfort and cleanliness, but are probably open to inexpensive furniture. Oftentimes students looking for furniture will cruise resale shops for recycled sofas. There's no reason a landlord can't do the same. Washable slipcovers are an effective way to cover a variety of imperfections! And a fresh coat of spray paint can work quick wonders to update and refresh old tables, chairs, shelves and desks.
However, you won't want to take this same approach with tenants travelling for work, people on an extended stay or people who are in a professional transition and are looking to buy in your area eventually. These tenants will likely be older, more established and looking for a space that reflects their grown-up taste, therefore these apartments should have a bit more style and interior consideration. Business travelers might not be able to afford five-star hotels every night, but they want a place that reminds them of home and offers sophistication and security. Furnishings, appliances and small pieces purchased for apartments catering to this type of tenant should at least appear to be somewhat high-end, even if you bought them at a big box retailer.
Whether you decide to furnish a property should depend heavily on the market in which that property is located. If it's near a college, a furnished apartment would appeal to students who don't have many of their own possessions to move into a rental. If the property is near an airport, other travel hub or near a business center, business travelers will appreciate a furnished rental without the prices of a nightly hotel.
Be aware that furnishing your apartments will create some unique challenges to overcome like shorter leases, higher upkeep cost, and higher renter turnover rate. However, in the right place at the right time, a furnished apartment can be the perfect place for someone to temporarily call home. Furnished apartments can offer increased revenue, highly targeted offerings and even open up new rental markets. The workload may increase, but can be minimal compared to the potential gains!
---
First Image "178 – I Live in IKEA" courtesy of Flickr user Hillary licensed under CC by 2.0.
Second Image "AFTER!" courtesy of Flickr user Justin Snow licensed under CC by 2.0.
Featured image "Budapest 2010" courtesy of Flickr user Daniel Stockman licensed under CC by 2.0.