Making good money running your restaurant isn't just about selling more of your food and drink—it's also about reducing your expenses.
You're a restaurant owner. You went into business with the idea that you would make some money. Ideally a lot of money. Which means you should always be on the look out for ways to save. Running a tight ship is essential to maximizing profits, and now more than ever, you want to be running a watertight ship.
The average restaurant uses close to 6,000 gallons of water each day. That averages out to more than 2 million gallons of water each year! Now imagine the impact that has on your fiscal budget (not to mention on the environment). Not such a good image, huh?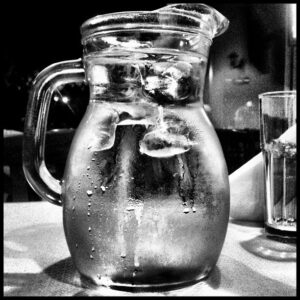 Yet this is the reality of water and its relationship to your restaurant. Water usage is directly connected to your overhead expenses: The more you use it, the more you pay for it. So what can you do about your water usage? Do you really need to use that much water? Can you still run your restaurant effectively while becoming more efficient with water conservation?
Of course you can! Check out these great tips for saving on water costs. The bottom line: This advice will reduce your water usage costs, allowing you to save money—which means you'll be making more money. We can already see you smiling!
Tips For Saving Water & Reducing Water Costs in Your Restaurant
Buy, rent or lease, or upgrade to ENERGY STAR® equipment

Ice machines, dishwashers, beverage dispensers and other machines that have water lines connected directly to them that are certified with an ENERGY STAR® quality rating save money by automatically reducing the amount of water used, lowering your water bill over time. You can also install energy efficient lower-flow spray heads to reduce the amount of water used by your dishwashers.

Repair all leaks immediately

Don't kid yourself about how much water is wasted by a leaky water line or faucet. The cost of repair is much cheaper than ignoring this problem for any length of time.

Turn it off

Water consuming equipment is often left flowing when not in use, continuously wasting water. Left unchecked, dozens of gallons of water can be unnecessarily wasted in a single day—that's literally money down the drain. Turn down those water stream valves, or simply turn your faucets and machines off when not in use.

Do not thaw food items under running water

Several gallons of warm water are required to thaw frozen food. With a little foresight, you can completely eliminate this cost by thawing food in a refrigerator instead.

Only wash fully loaded dish racks

Make your commercial dishwasher more efficient by only washing fully loaded dish racks. Your dishwasher uses the same amount of water regardless of how much or how little is in it. Streamline this process and save!

Presoak dishes in hot water

By soaking used dishes, silverware, and pots and pans in washbasins and rinsing them sooner rather than later, you can avoid sending them through the dishwasher more than once. Use hot water: Grease and grime are more powerfully dissolved with hot water, so you save both water and time.

Use a high-temp dishwasher

If you're using a low-temp warewasher with sanitation chemicals, you might need to run your dishes through multiple times to get them sparkly clean. Another option is to blast your dishes with 180°F hot water by using a high-temp dishwasher backed with a booster heater to ensure your dishes only require one wash. Bonus: High-temp warewashers also use less overall water per wash cycle!

Educate your staff and guests

Management cannot do this alone. It's ultimately up to your staff to help keep water costs down by remaining conscious of, and actively engaging in water saving practices. Your guests can be easily informed on how to reduce their water usage footprint with a few well-placed signs and suggestions from their server.

Serve water to guests only upon request

Many people forego ordering water altogether in favor of other beverages. Save your restaurant money and be environment friendly. Your guests will appreciate your energy and water saving consciousness.

Install pedal operated faucets

By using foot pedal operated faucets, you and your staff will save time, water and money by preventing water from running in excess.

Install motion activated sensors

Automatic sinks and restroom appliances not only offer a more sanitary environment for your guests, but they also monitor and limit the amount of water your guests use without inconveniencing them.
Making good money running your restaurant isn't just about selling more of your food and drink—it's also about reducing your expenses. Reducing your restaurant's water usage not only saves you money, but also helps the environment tremendously. As you can see, saving on water has a direct influence on saving money—and we know every restaurant's bottom line is to make more money!
It can't be overstated how closely related water usage is linked to saving (or not saving) money. By working to effectively reduce water usage, you not only lower your water bill, but you'll also lower your energy and sewage bills—saving you even more. With little effort, you and your restaurant can begin saving and therefore making more money. Immediately.
---
Featured Image courtesy Flickr user raysawhill.
"Water" courtesy of Flickr user Vassilis. All images licensed for use under the Creative Commons.