Perfecting Your Restaurant's Online Ordering System
Today's customer wants a fast, convenient way to order food to-go.
Restaurant owners don't need to be IT experts to implement an online ordering system. (You've got enough on your plate!) But you'll need software that works and a plan to keep up with increased demand. Here's the scoop…
So, you've got a restaurant that people adore! Your food is raved about! You're ready to grow! How do you level-up? The next logical step is expansion or even adding another location—but those are two very costly options. What if you could feed more customers without adding tabletops and servers? Adding an online to-go system is a great revenue booster, but it takes strategy. You need reliable software and an adjusted workflow to keep up. Here's how to expand your restaurant the easy way, so you can focus on food, not get burned by technology.
Customers Want Online Ordering Systems
Restaurateurs don't need a crystal ball to see industry trends are pointing toward the need for internet-based service. Customers want to do it all from their smart phones—peruse menus, place reservations, order and pick up hot food to enjoy at home.
Online food ordering and payment isn't a futuristic restaurant concept. In 2016 the number of food orders placed online surpassed the number of orders placed by telephone. Ordering food ahead is now a regular part of customers' expectations. It's also a smart way to "expand" your restaurant without increasing your footprint. Most small-scale to-go operations require only additional technology and extra cooking support. You'll increase your reach and revenue without the high expense or risk associated with a brick-and-mortar expansion.
The online ordering trend started with large chains like Chili's, Pizza Hut and Olive Garden. They've mastered the online ordering game, by developing their own proprietary apps and software. Customers order right from their phones and arrive curbside to pick-up their food to-go. After years of offering the service, It's a natural part of these big restaurants' business offerings. For most small-to-mid-sized restaurant and franchise owners though, a proprietary app that costs from $50K to $1 million to create simply isn't in the budget.
The good news is, restaurants and franchise owners can still get in on the online ordering game by using one of the many third-party software options available these days. Typically, participating restaurants are charged a percentage per order, a flat monthly fee-for-service, or both. Some companies provide the restaurant with a tablet to manage orders, others simply offer software that integrates with your existing point-of-sale (POS) system.
A third-party system is a great option because it also generates new business and more exposure for your brand. Many of these companies work with several restaurants, offering great loyalty programs, apps, order-tracking and upselling. Most third-party platform-users report an increased revenue between 20-30%
There are hundreds of third-party platform options for a restaurant owner to choose from but of course a few major players lead the pack. One of the leaders is Olo. Olo is available on an open platform and for the common operating systems and devices. Payment is available through major credit cards and they offer analytics and data. While they're a bit more robust (and priced out) for smaller operations, they're a great franchise and group option.
A few questions to ask when you're exploring online ordering systems:
Does their software integrate with my existing POS or will they provide a system to fit our workflow?
Should I work with one provider or through multiple providers—it may mean more revenue, but can we juggle more than one system right now?
Does the software provider offer security measures to protect my customer's payment information?
What tech support is available and how's the customer service if our system goes down on a busy night?
"Will That Order Be for Pick Up or Delivery?"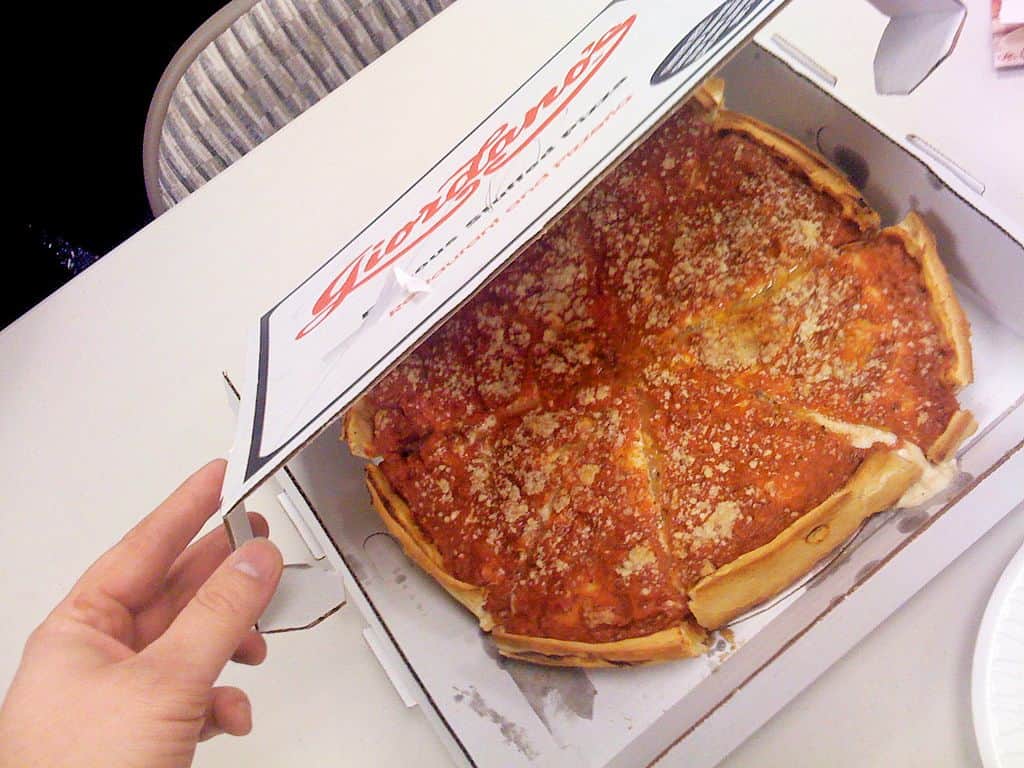 Pizza joints were the first type of restaurant to jump on the online ordering bandwagon. Domino's Pizza first unveiled an ordering app for the iPhone in 2011, and for Android phones in 2012. Take-out and delivery have long been a critical part of the pizza industry's success and online ordering was a logical step.
But even if your restaurant offerings aren't typically "take-out style" food, you may still see great growth and benefits from implementing online ordering and delivery systems – especially with the rise of sites like GrubHub.
GrubHub offers restaurant online ordering and delivery with minimal set-up and operational costs. They've built a reputation with food lovers, who may give your place a whirl simply because they love GrubHub's online ordering and delivery service. The company serves restaurants in over 900 cities across the U.S., and will increase your appeal among tourists, especially if your restaurant is near a hotel.
Services offering online ordering and food delivery facilitate every step of the process (except for the actual food prep, of course). Customers use the app to access your menu and order. Your kitchen receives the order right away, and customers pay through via the app (payment is sent to you after the third-party facilitator takes their cut). Then the app service sends a courier to pick up the food from your restaurant. You can double your customers without investing in the full workforce, vehicles and additional infrastructure to handle the logistics of delivery.
With so many options, it's tempting to use more than one. The main drawback of offering delivery service across multiple apps, is simply keeping up with traffic. Couriers waiting for food pick up grouped outside the kitchen, in the entryway or elsewhere in the restaurant might create cramped space. Similarly, the problem of multiple devices near the cash register, and multiple sources of orders increase human error and create confusion.
Two types of food businesses which may not be interested in delivery services at all, include fine dining and coffee shops. With fine dining, the presentation is part of the experience and often can't be replicated with pick up or delivery. For coffee shops, delivery of small orders is often not in demand or worth the fees.
For both types of food businesses, an online presence still has benefits, however. Fine dining establishments may wish to present their menu, photos and offer reservations through their website or using a service like OpenTable (which charges a monthly service charge and an additional small fee per reservation). Coffee shops may wish to offer online ordering for pick up orders to-go.
If your restaurant already offers customers a take-out option, mobile ordering service will streamline your process. Customers will run in and grab an order they've already paid for, skipping the line and saving time.
Logistics of Offering Online Ordering
The technical process of getting online orders from a customer's smartphone to your kitchen and out the door is important. But before you take the leap to online ordering, don't forget about the impact on the physical space and workflow of your restaurant.
Three questions to ask yourself:
How will increased online ordering and food pick-up affect the flow of traffic inside my restaurant?
When coffeehouse giant, Starbucks first began experimenting with mobile orders the service was extremely popular, but when the customers came to pick their orders up, it got extra frothy in the cafe. People who had ordered and paid online were still waiting in-line to pick up, which caused a lot of confusion for customers and staff alike.
Adding to the issue, other customers saw the long lines of people – many of whom had already ordered and paid online – and decided their venti latte wasn't worth the wait. Starbucks had to make a few adjustments. The app was popular, and the service was clearly in-demand, but in-store execution needed work. Starbucks opened additional counter space specifically for pickup of online orders, and created new signage to direct traffic.
Once the food is ready to go out the door, customers need to get those orders. You'll need space for waiting (seating vs. standing) and if your pick-up business doubles, will the number of sit-down customers shrink? This could change the traffic patterns of your eatery. If your restaurant has a bar this often becomes a default waiting area, but will this take space from customers who purchase drinks while they wait to be seated?
How will increased online ordering affect the utilities and staffing in my restaurant's kitchen?
Online ordering will increase the demand for food, but does your line have the bandwidth to handle it? You may need to add additional cooks, expand your kitchen (a less expensive endeavor than expanding your whole restaurant) and ensure your cooking space and equipment will support the endeavor. This may mean the addition of cooking surfaces and checking to ensure your hot water supply will meet the additional demand.
Starbucks dedicates an entire espresso machine for online orders only. Chipotle restaurants use an additional food preparation line for online orders. These are just two ways restaurants ensure equipment and space keep up with traffic.
Increase online orders will also put additional demands on staff and change the workflow. Assign a back of the house point person to handle to-go orders every shift to manage the tide and keep you out of the weeds. Diners will likely check with the hostess or front of the house for pick up procedures. This increases their workload as well, so you may wish to assign a back-up during peak times (a bartender is often a good choice).
Adding an online ordering system is less costly than expanding your entire restaurant, but you'll still need to check utilities, equipment, add staff and support to keep up with the change.
How can I ensure online orders are a great experience for my customer in every way possible?
Do a few test-runs to ensure customers can order, arrive, park and pickup without any glitches. How do customers typically arrive at your restaurant? Customers in suburban areas may get hot food home in minutes, but in rural locations food may cool long before they get home. Similarly, if your restaurant is in the city, many patrons may rely on public transportation. Orders should be packed in sturdy, insulated containers.
Don't forget to include the cost of take-home containers, plastic utensils and bags when you do your costing. These expenses are often minor, but they add up and effect your bottom line.
Take a lesson from large takeout restaurants: include only what's needed to keep your food waste down.
Also, be mindful of your parking lot. Customers who pickup curbside may need parking spaces near the door with ten to fifteen-minute limits. Street parking may require runners to dash orders out the door to waiting customers.
Online ordering for pickup and delivery is increasingly common and expected. As a restaurant owner, keep up with the demand with smart strategies and legwork up front. Figure in your additional costs, adapt your space for a new workflow and ensure everyone's up for the challenge. It's a great way to expand your business without biting off too much. If you're ready to take the leap, to-go for it!
---
Featured image courtesy of Flickr user Mike Mozart licensed under CC by 2.0. Giordano's Pizza courtesy of Wjmummert / UberEATS delivery courtesy of Franklin Heijnen.