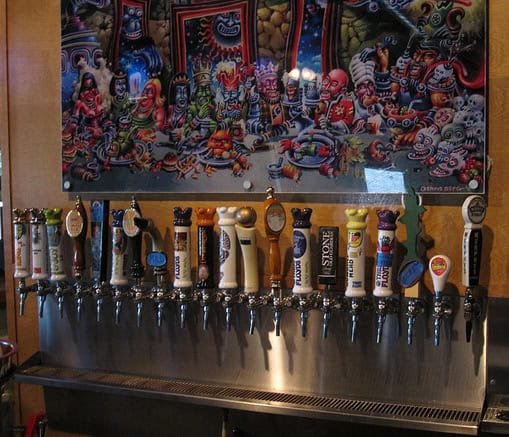 Indiana Breweries: Craft Beer On The Rise
When you think "beer" you might not immediately think "Indiana Breweries." But microbreweries in Indiana are on the rise, with the number of Indiana craft breweries more than doubling since 2012.
These days the Hoosier state is home to some heavy-hitters in the world of craft beer. Not one but two of the beers from Three Floyds Brewing Co. was labeled a
"quintessential, must-drink beer" for beer lovers
. And
several Indiana breweries have won prestigious awards
at the World Beer Cup and the Great American Beer Festival.
So if you're looking for a new local brew to sell in your restaurant or something to inspire your brewmaster, check out these featured Indiana breweries and some of their award-winning brews that made the list for the best beer in Indiana.
Here's a list of Indiana breweries that made Beer Advocate's list of Best Beers in the U.S.:
What is it about these brews that make them so wildly popular and worthy of a "Best Beer in Indiana" title? Let's take a look at what craft breweries in Indiana have to offer and what makes their craft beer so irresistibly good!
Craft Competition: Pale Ales vs. Stouts & Porters
A quick glance at Beer Advocate's best rated beers in the U.S. will show you a drinking public split between two types of beer: Pale Ales and Stouts. The list of highest rated beers from Indiana breweries reflects this trend as well.
Pale ales have long been at the heart of the modern craft beer movement, so their place on the list makes perfect sense. These beers get their name from the pale malt that gives them their light color and bitter taste, and includes beers like amber ale, blonde ale, Irish red ale, scotch ale, and of course the IPA, or India Pale Ale. The American Pale Ale, sometimes called the American Indian Pale Ale, and the contemporary IPA are considered very similar beers.
Perhaps due to the craft beer drinker's insatiable thirst for all things pale ale, craft brewers are coming up with new styles all the time – adding more hops, making them stronger or adding fruit. Beer Advocate recently stated that a new type of pale ale that's been gaining in popularity – New England India Pale Ale – is officially a style of beer.
Imperial stouts and porters mainly make up the other half of the best beer on Indiana's list. These high gravity beers get their name from their original purpose: to serve the Imperial Court with a stout brew that wouldn't lose potency over a long trip across the European continent. These heavier beers are perfect for cold, wintery nights that require a little bit of chemical warmth to see through to the next day. They also pair well with soups and chili to really ease some warmth back into your bones.
Let's take a look at some Indiana breweries making some of these popular beers and find out which craft beers and brewpubs are winning fans and awards.
Favorite Indiana Craft Beer: The Pale Ales
Very near to the border with Illinois in Hammond, IN sits Three Floyds Brewing Company. At the time this post was written, Three Floyds claimed the top six beers on Beer Advocate's ratings list for Indiana craft beer and also claim 21 out of the first 25 spots. Consistent with the lists on Beer Advocate, four of those first six beers are pale ales and the other two are stouts.
Zombie Dust, an American Pale Ale made with hops from Washington State, sits at number two.

Numbers 4 & 6, Permanent Funeral & Dreadnaught IPA, are both American Double/Imperial IPAs boasting an ABV (alcohol by volume) of 10.5% and 9.5% respectively.

Number 5, Secret Sub Lair,  is an American IPA and is available on a rotating basis.
Clearly beer drinkers in Indiana and beyond are fans of Three Floyds, and their proximity to Chicago likely gives them a solid customer base to draw from. But does this make them the best brewery in Indiana?
Let's look at some other Indiana brewpubs making well-received pale ales. Breweries in Indianapolis, Bloomington, Gary, and Bargersville (just south of Indianapolis) also have spots in the top half of the list.
Upland Brewing in Bloomington, IN slides in at number eight with their PawPaw, a so-called American Wild Ale. These ales use "wild" yeast (yeasts that are not commercially purchased and carefully controlled) to create flavors that are often distinct and also can be unpleasing to some. Uplands must have hit on something good to get PawPaw on the top ten list! Upland also has a red ale on the list called Malefactor.
18th Street Brewery started with a taproom in Gary, IN and has since opened a second location – a brewpub in Hammond. Their APA called Deal with the Devil lands at number 17.
Sun King, a Great American Beer Festival gold medalist, has become the largest craft brewery among Indianapolis breweries. They've got an American IPA called Grapefruit Jungle at #39 on the list, and many reviews called it "smooth" and "drinkable."
So Indiana breweries have taken the pale ale and ran with it, creating a devoted tribe of craft beer lovers in the process. But what about the other half of the list – those stouts so critical to Midwestern winter survival?
Best Beer in Indiana: The Heavy Hitting Stouts
Once again we'll turn to Three Floyds Brewing Company for the two stouts coming in at number one and number three. The Bourbon Barrel Aged Dark Lord Imperial Stout is a beer released once a year at a festival called Dark Lord Day. Tickets to the festival are a mere $180, but do come with bottles of this limited-release beer. The Marshmallow Handjee (Bourbon Barrel Aged Vanilla Bean Dark Lord) is a variant of the Dark Lord Imperial Stout that has been aged with the addition of vanilla beans.
Both beers are Russian Imperial Stouts, a beer originally brewed to impress the Russian Czar. Traditionally these types of beers have a high alcohol content and these two are no exception – both boasting a very big 15% ABV.
On another list of Indiana's most award-winning beers we find a doppelbock by Thr3e Wise Men Brewing Co. (While not a stout, doppelbocks are also often very dark beers boasting a high ABV and commonly have chocolate or dark-fruit flavors.)
Thr3e Wise Men Brewing Co. is the brewing brain-child of Scott Wise, owner of Scotty's Brewhouse – arguably Indiana's most well-known brew pub. The first Scotty's Brewhouse opened in Muncie in 1996, and the business added location after location as its popularity grew. While brewing their own beer was not immediately a reality, it was always part of the plan. With Thr3e Wise Men opening in 2011 (named after Scotty himself and his two sons) the craft brewing began in earnest, and they've been winning awards with their innovative beers ever since.
While there are currently only two Thr3e Wise Men locations, the beer is served in Scotty's Brewpub locations located across Indiana. There's even a location in Illinois, one in Ohio and one in Florida!
Returning to our list of Stouts from Beer Advocate, let's look at some more award-winning stouts and the breweries that make them.
Number 32, The Imperial Bud, is a Russian Imperial Stout made by 18th Street Brewery. This limited release is brewed with cacao nibs, vanilla bean, cinnamon and coffee.  And at number 33, their Hunter Vanilla is a variant of their original Hunter Milk Stout, made with the addition of whole vanilla bean.
The next two Indiana breweries with stouts making the cut are Scarlet Lane Brewing in McCordsville, IN (a suburb of Indianapolis) and Flat 12 Bierworks. Scarlet Lane's Dorian Stout is an American Stout – a spinoff of English and Irish Stouts.
Flat 12 Bierworks falls right in line with yet another popular Russian Imperial Stout. Pinko! was released last summer in stubby 8 oz cans, a unique move for craft breweries in Indiana and around the country.
Those are just a smattering of the best beers coming out of Indiana today. A list like this is almost always controversial, and with nearly 150 craft breweries, taprooms, gastropubs and other businesses pumping out beer on a daily basis it's impossible to touch on all the great craft beer Indiana has to offer.
Microbreweries in Indiana are increasing their distribution, so the next time you step into a bar that serves craft beer look for a pale ale, stout or simply your favorite style that's brewed in Indiana. You never know what hidden gem you might find.
Liked this list of Indiana breweries and want to know more about midwest craft beer? Check out our post on the best Wisconsin craft beer and discover more of what the great Midwest has to offer!
---
Featured image "Three Floyds Draft Beer" courtesy of Flickr user Bernt Rostad. All images licensed under CC by 2.0.