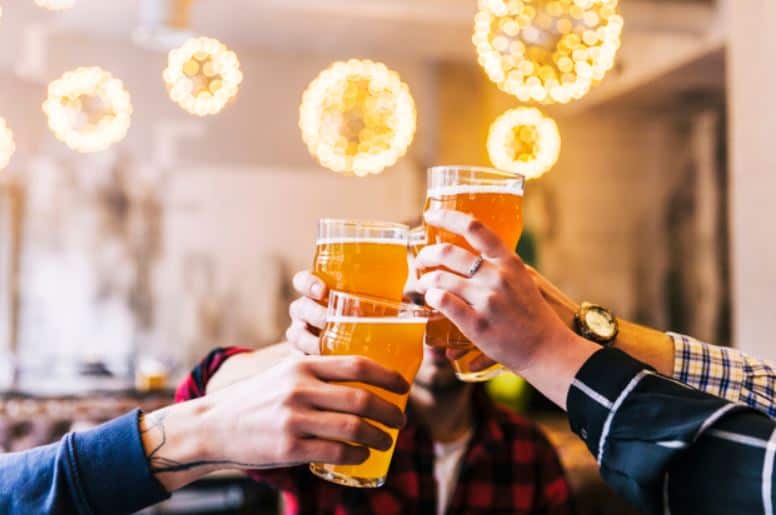 Top 12 Brewery Trends for 2021
Goodbye, 2020! Most of us can agree that we're ready to put last year behind us and move forward into the new dawn of 2021.
The brewing industry has been one of the hardest-hit areas of the pandemic. We're certainly still looking at a significant period of recovery before life feels back to normal. But the new year is full of optimism, a renewed interest in social connections, and an appreciation of the little things (like a frosty glass of beer). Here are the top 12 brewery trends to look out for in this new year!
As we reflect on 2020, the words "dumpster fire" may spring to mind (as well as a few other choice terms). And it's no wonder—for the craft brewing industry, 2020 was one of the most challenging, difficult years that the industry has faced since, well, maybe Prohibition?
But people still love and appreciate a great glass of refreshing beer. During the pandemic, people found new and creative ways to support and enjoy breweries. They will likely continue to support their favorite spots in the future. Once vaccines are more widespread, we can expect a resurgence.
People have missed connecting with friends and getting a sense of togetherness that comes from enjoying beverages together. Beer gardens and "to-go" beers have made up some of the difference, but one crucial brewery trend that we can rely on is that people will be returning in 2021. Breweries themselves will become a trend once again.
As you look forward to the new year, here are 12 brewery trends you can expect and plan for in 2021.
1. Summer Beers
By summer, life should be getting back some semblance of normalcy. Vaccines should be widespread, and people should be able to gather safely, especially outdoors in the nice weather. Breweries can open their patios and invite folks back to the beer garden.
What will they enjoy with all that sunshine? A delicious summer beer, of course. Think light and refreshing lagers, wheat beers, IPAs, and blonde ales. Nothing is quite as thirst-quenching as a beer that's light in color and bright in flavor on a hot summer day. This brewery trend toward the summer of love should continue even into the fall months.
2. Rosé
Rosé beers are a brewery trend that caught on in the last couple of years. For those unfamiliar with this hybrid, take the best of both beer and wine and combine them into a delicious, refreshing, pale pink beverage.
Rosé beers aren't yet considered a category of beer at the Great American Beer Festival, and by other experts; they fall into the "hybrid" or "fusion" realm. Using fermented grapes in the brewing process, brewers produce a juicy, refreshing beer. That said, these craft brews can also pack a punch with ABV as high as 10%, so enjoy like all good things—in moderation.
3. Juicy Beers
"Juicy" beers have been another popular brewery trend for a while, but the definition is broad and a little vague. From wild beers to IPAs, many different beers to shandies are considered by aficionados to be "juicy beers." Typically, beer lovers refer to hazy IPAs as juicy, but that's not necessarily a rule.
The Brewer's Association reports that female drinkers and younger drinkers between 21-44 reported a high interest in juicy or hazy beers. Give the people what they want by including some beers with fruity, juicy notes on your brewery menu. These beers are great for spring, summer, and even fall drinkers and should continue to be a brewery trend for several years.
4. Craft-Beer Styles (Made by Mainstream Suppliers)
One beer trend that will affect breweries began well before the pandemic. When craft beer became more popular, Big Beer like Anheuser-Busch started buying up some of these smaller endeavors. Wanting to get in on the trend, they snatched up these craft beer makers, making the market less stable and more competitive.
The pandemic didn't do craft brewers any favors on this front. With many struggling during the last year, they caved to the pressure. Unfortunately, bigger brewers can out-market, outsell, and have greater supply access. Will this trend continue? Unfortunately, it may, but independent breweries have a lot of community support and clout. This year may see a winding down of this buy-up trend.
5. Local Ingredients
Another trend that continues to hold on is going local for ingredients. Nothing speaks to the heart of your community like incorporating your homegrown hops or infusing your brews with popular local delicacies.
With the supply chain disruptions we saw in 2020, craft brewers are likely to continue to source as locally as possible. Not only is it often cost-friendly, but it's more eco-conscious. Plus, everyone loves a great beer story, and using local ingredients helps you share that narrative (and a little local pride) with every drinker.
6. Sour Beers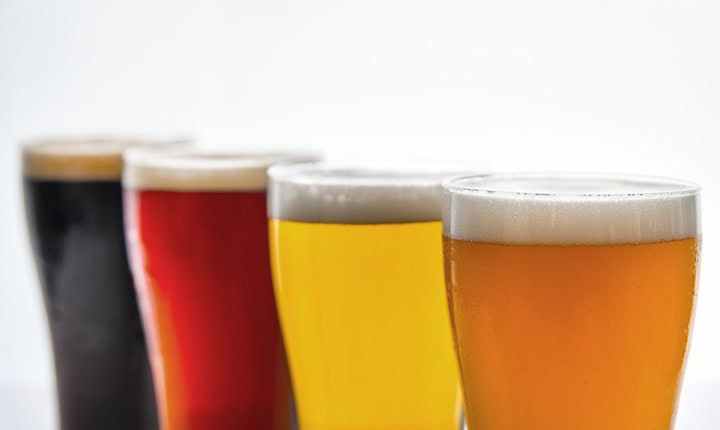 Another popular option this year? Sour beers! You might be seeing a brewery trend here towards the light, fruity, "non-beer" beers. For hardcore craft brew lovers, these flavored beers may seem a tad silly or over the top. But remember, if they turn people onto craft breweries, then let them enjoy!
Of the trendy beers, sours are the most "classic." Lambic and wild fermented ales are some of the very first beers ever. So yes, these are "real beers," even if they have tart, fruity notes. The sour notes come from yeast and bacteria that give the beer a fermented, slightly acidic taste. Sour beers have taken off because they're enjoyed by beer snobs and beer novices alike.
7. CBD Infused Beer
Hemp farming was mostly legalized in 2018, giving rise to the pervasive CBD trend. CBD's ubiquitous presence in lotions, candy, lip balm, desserts, and oils has grown over the last year. Craft breweries are getting in on the trend.
Some regulations are still a bit shaky. The DEA first allowed and then revoked CBD's allowance in brewing (after some breweries had already begun to create their concoctions). Some brewmasters are committed to seeing the CBD infused beer trend come to fruition. We'll likely see these hit in 2021 and take off.
8. Hard Seltzers
Another brewery trend that's not going away is the love of hard seltzer. These have become extremely popular amongst beer drinkers and even beer haters. Although polarizing, the lighter, easy-to-drink beverages have really become a bar staple.
If your brewery is interested in getting in on the hard seltzer trend, 2021 could be your year. A hard seltzer option attracts different drinkers and helps them dip a toe in the world of brewing (even if they aren't fans of regular ol' beer).
9. NA Craft Brews
The pandemic has taught us all that we need to prioritize our health. Many people are taking part in "Dry January" to counteract a few habits they've developed under quarantine boredom. Over the last several years, the market for non-alcoholic craft brews has grown. Some people want to take a break from alcohol but still enjoy the exciting flavors of microbrews.
Brewers like Athletic Brewing ship their delicious NA craft brews all over the United States. Local breweries can and should also consider getting in on the trend. If soda is the only NA option on your brewery tour, explore the possibilities of a kombucha or an NA beer to cater to the DD's and teetotalers.
10. Supply Chain Challenges
An unfortunate brewery trend from 2020 that's likely to stick around in 2021 is supply chain shortages and challenges. It's not always ingredients that are hard to come by, either. Aluminum cans are in short supply across the United States. There's plenty of raw material to make the cans, but manufacturers are backed up with the shift to at-home drinking.
There are plans to increase production, but that takes time. In the interim, brewers can expect some of their essential supplies will be harder to come by in the next year. It will increase costs and stress on an already struggling industry, but we're also likely to see some of the innovation and scrappiness that makes breweries thrive.
11. Focus on Social Consciousness
2020 wasn't just the year of the pandemic. It was a year that gave rise to a greater sense of community, awareness of human rights, and concern for social issues. Whether your brewery focuses on equality, the environment, or community-building, social consciousness will likely continue to grow in the new year.
When the pandemic disproportionately impacted restaurants, food manufacturers, and brewers, many saw their communities rally around them in support. It's only natural to want to give back and reciprocate. Those who are most involved in their surrounding communities, by either donating to local causes, revisiting their policies or advocating for their neighbors, will continue to grow and receive support. We're all in this together.
12. A Return to the Brewery
Finally, as we see the light at the end of the pandemic tunnel, we can hope that breweries themselves are a 2021 brewery trend. People have missed visiting taprooms and pubs. They miss the brewery tours, the trivia nights, and the Friday fish fries. As soon as they feel comfortable with emerging, they're likely to visit their favorite brewery.
Many experts say that it may take a while before people are comfortable with travel and large groups. So expect a growing trend toward staycations and taking part in local activities. Parties, weddings, and gatherings will be a little smaller, but that makes breweries the perfect spot for an outing.
As we go into the new year, let's look forward to these brewery trends. Stick with what's working, make room for a few new menu items, or slightly shift to your approach. Let's all raise a glass to an optimistic outlook for 2021!