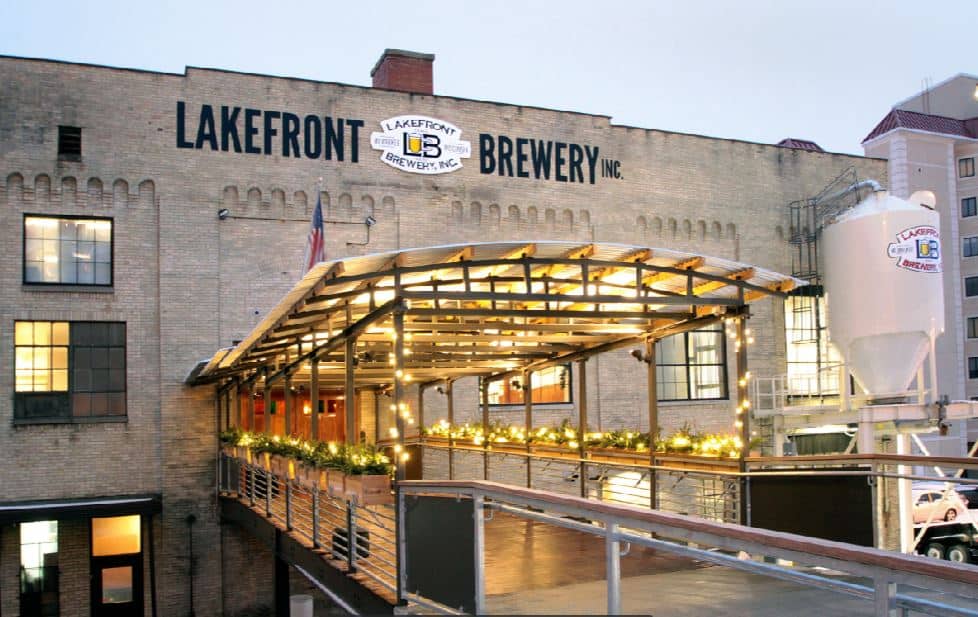 Q&A with Lakefront Brewery: The Pros and Cons of Running a Brewery & Restaurant 
Lakefront Brewery is a thriving and beloved brewery and restaurant at the heart of Milwaukee's riverfront.
Founded in 1987 by two brothers, Russ and Jim Klisch, this iconic beer establishment has been providing the Milwaukee community with good beer, good food, and even better memories for over 30 years. Interestingly, their ever-popular restaurant, located in the brewery's beer hall, wasn't always part of the plan.
We sat down with Russ Klisch, president and co-founder of Lakefront Brewery, and Mike Walker, Lakefront Brewery Front of House Manager to learn more about what it's like to run a brewery restaurant business, how to create great brews, and the details of Lakefront Brewery's journey to becoming a treasured Milwaukee staple.

Russ Klisch was a business student in college who knew he loved two things in life: beer and people. Lakefront Brewery was a product of these two passions and continues to succeed as a front-runner in the brewery restaurant business today. With over 70 fulltime employees and 90 part-time employees, Lakefront Brewery has grown to an astounding 160 total staff… much more than the 2 employees who ran the brewery back in 1987 (a.k.a. Russ and his brother).
Motivated by his dream of turning Lakefront Brewery into a household name, Klisch hustled every single day. He interacted with customers, gave tours and took time to learn the ins and outs of the industry to ensure his business was a success. From tours to the restaurant and day-to-day brewing operations, Klisch says the biggest realization he had was recognizing that he wasn't simply working in the craft brewery business or restaurant industry, he was in the entertainment business.
"You're always wearing a lot of different hats which is one of the main issues you face when running a brewery and restaurant. You need to split yourself into two different areas and really hope you have enough time for both," Klisch said. Part of keeping up meant keeping customers engaged, happy, and interested during their visits.
Staying ahead of trends in the food and beverage industry is difficult and exhausting at times but the payoff for running a successful brewery and restaurant was absolutely worth it! Here's what Lakefront Brewery President Russ Klisch and Front of House Manager, Mike Walker had to say about their successes and challenges.
What are the biggest challenges to running a restaurant alongside an active and popular brewery?
Lakefront Brewery initially offered only a fish fry every Friday, which was extremely popular (and is still a customer favorite today), but that was technically run separately by a local restaurateur in a mutually beneficial collaboration with the brewery. Walker said they opened their own full restaurant in 2013 and that's when they made the decision to expand the menu and elevate the food service to the next level. One of the biggest challenges of this transition was helping customers understand they weren't REQUIRED to take a tour when they visited the brewery. They could simply come in to eat and enjoy a drink.
Lakefront was already such a successful brewery, Klisch and his team had to work twice as hard to help customers understand their new identity as a brewery restaurant. Moreover, a big challenge for Klisch was efficiently running several types of businesses at once.
"I minored in business in college and took a class where they tried to tell you that you shouldn't take your business into another business. This is one of the main reasons I was so hesitant about getting into the restaurant industry. Restaurants, tours, and manufacturing are all very different areas."
After a while, it was clear for Klisch he could succeed in doing the exact opposite of what he learned in business class. Running and operating several different businesses is a model that works for Lakefront because the overall goal is the same: to create a fun, memorable and unique experience for their customers.
One of Klisch's secrets to success is recognizing the unique challenges of running a brewery restaurant and addressing each head on. He understands the vital importance of delegation. After deciding to expand the restaurant, Klisch found a talented head chef who knew everything about running a kitchen and cooking delicious food. Today, he gives her full reign of the menu and she handles all aspects of the restaurant.
What are the biggest advantages?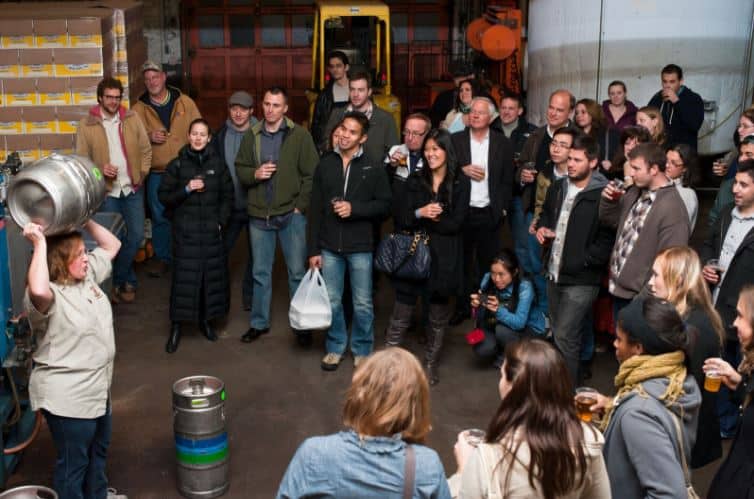 The best parts of the brewery restaurant business for Klisch are the people…and of course, the beer. The job is rewarding in many ways, but the social aspect is the best part for him. Lakefront Brewery is a place where people can interact and form new friendships while sitting at the German-style tables in the beer hall. Klisch enjoys hearing people laugh during their tour (whether it's their first time or tenth) and says that joy is what Lakefront is all about.
Another fulfilling part of the job for Klisch is when the brewery and restaurant side come together. Using beer in the recipes and pairing certain foods with beer is deeply satisfying, especially when the customers approve!
As an established brewery restaurant in Milwaukee, there's also a sense of social responsibility to set an example for the community. Klisch says he has found people will look at Lakefront Brewery and think, if the brewery is part of the community and culture of the city, then I should be too. This is a unique opportunity to really make a positive impact and one not many breweries get the chance to do.
Does brewery operation ever impact restaurant operation or vice versa?
"YES! When there is a lack of space, the two operations definitely impact each other," Klisch said.
"Recently, the kitchen needed to borrow space from the brewery to store 2,000 lbs. of cheese curds they ordered for Summerfest. Some of the curds had to be placed into the beer coolers which obviously impacted beer operations." He said part of the struggle shown here is both sides always want more space but it's important everything and everyone work together.
Another example of give-and-take was when the brewery needed a new piece of equipment put in; there were no tours for a few days which definitely impacted the restaurant. In situations like this, Klisch says you need to "play judge" and do what you think is best. In this case, the brewery needed new equipment. In the grand scheme of things, the fix was more important and needed for the benefit of everyone in the long run.
How often is the brewery actively brewing and packaging product while the restaurant is open? Is this a process you like to show on tours and is there a benefit to showing the customer the brewing process in real time?
Klisch says the work week for brewery staff is usually 4 days a week, 10 hours each day. Typically, they start early Monday morning and are finished no later than Thursday night. This allows for regular tours to take place Friday through Sunday when the brewery isn't in operation. The brewing process can be very dangerous, and safety of patrons is always of the highest concern. But, Walker says Lakefront Brewery does offer a special in-depth tour which is longer and more technical for those who are truly interested in the top-to-bottom operations.
Although tours don't showcase the actual brewing process, Klisch says it doesn't matter. The two main aspects people want on a tour are to drink beer and to be entertained: that's it. The majority of people don't care about the technical information, they want a 45-minute performance— a show you might see at a comedy club. Lakefront understands the unique blend of humor and entertainment required for a great brewery tour, which is the secret to their happy tour customers.
"Each tour guide has their own style, their own jokes, and that's what brings people back to Lakefront Brewery," said Klisch. Every tour is unique, and every tour offers a new, memorable experience for patrons. This approach is why Lakefront Brewery continues to thrive today.
How is your restaurant menu crafted, and how often, if ever, does it change? Is it built around the seasonal beers Lakefront produces?
The menu is entirely crafted by Lakefront Brewery's executive chef, Kristin Hueneke. Klisch credits a lot of the success for the brewery's restaurant to delegating all restaurant-related decisions to Hueneke, who he says is much more qualified and experienced with food.
Today, Walker says they don't typically craft a different menu around seasonal beers because the constant changes would be difficult for the kitchen and the chef to keep up with. They use software to track the dishes people are ordering often, and which dishes aren't customer favorites. This information really helps the chef decide what changes to make. She knows what dishes are doing well, and what dishes need to be adjusted.
Clearly Lakefront is doing something right because the massive success of their restaurant has pushed them into expanding. In fact, they recently purchased a food truck to park along the river walk, a popular trail behind the brewery. The truck has been in operations for a few months and has already been quite successful. Klisch says the truck hasn't impacted inside restaurant sales negatively at all; it's just another way to get more presence in the community.
The newly introduced Curd Wagon is already out and about in Milwaukee, visiting some outdoor music performances this summer. As time goes on, the Curd Wagon will be out more and more often, which is great news!
Do you think craft breweries and restaurants are a trend that will continue to become more popular as craft beer production continues to grow?
Most breweries fit one of three business models: brewpubs, taprooms, or packaging breweries. Lakefront is considered a hybrid with both a packaging brewery and a restaurant which tries to tie the customer experience in with the brewery. Klisch says the reality is there are many other breweries and brewery restaurants in Milwaukee, but none with the same model, history, or reputation as Lakefront.
Through his three decades in the brewery industry, he has found that, ultimately, breweries need to offer some type of food to be real competitors. Lakefront is absolutely a trend-setter among these types of breweries and it's a trend still growing.
Klisch says the main reason for running a brewery restaurant business is to attract additional customers BUT, you must remember a few important points. For one, people carry very high standards for restaurants, and breweries should keep this in mind if considering the addition of a restaurant. Is the food cost and hassle worth it for your business?
Lakefront Brewery set up their restaurant as a simple food operation. Customers order food at the counter then take a number and sit down. There are no waitstaff and therefore fewer issues with impatient customers and traffic flow that many other restaurants face.
When you enter Lakefront, you feel instantly welcomed. There's a holistic feeling that comes from enjoying delicious food at the same establishment where your beer was brewed. Lakefront provides a sense of family and togetherness reminiscent of old European beer halls.
What advice would you give to craft brewery owners who might want to open a restaurant alongside their growing brewery?
Klisch's advice for other brewery owners looking to open a brewery restaurant operation is short and sweet: keep it simple. Do one thing very well and become known for it.
"Remember, people will forgive bad beer for good food but not the other way around."
Milwaukee's Lakefront Brewery is an extremely successful establishment. They've built off their success, always keeping focus on their main goal: making their customers happy!
When it Comes to Running a Brewery, Hot Water is Everything!
Lakefront Brewery is one of Reliable Water Services' valued customers. Hot water is essential to the brewing, restaurant and hospitality industries.  Breweries have many commercial water heater needs and Lakefront is no exception…but don't take our word for it. We asked Klisch to weigh in with his feelings about hot water.
"Hot water is everything… The hot water heaters in the kitchen help with cleaning as well as sterilization of tanks in the brewing process… If you want clean beer, you need hot water," Klisch said.
From pint glasses to dinnerware, a brewery with a restaurant is going to have lots of dishes going through the dishwasher and will need enough hot water to handle that demand. Breweries also use hot water for cleaning the brew tanks between batches. Hot water simply melts away the organic particles that can build up inside the brew tanks during the brewing process, and at 160° F, it also sanitizes those tanks to kill off any bacteria.
Then there's the hot water used in the actual brewing process to create the beer itself – technically, the mash water and sparge water. Breweries will usually use storage tanks and a separate commercial boiler for this hot water, as Klisch explained. It's a more efficient way of getting a lot of hot water at the specific times they need it, without wasting a lot of energy when they aren't brewing.
From commercial water heaters to boilers, Reliable Water Services has you (and Lakefront Brewery) covered. We're proud to service this important staple of the Milwaukee community, ensuring they have all the hot water their brewery needs.
When it comes to hot water and proper sizing of your commercial hot water equipment, Reliable Water Services has you covered 24/7. If you have questions, need equipment recommendations, or for a quote on any of our plans and services, just call us at 1-800-356-1444 or email [email protected].
---
Featured image and post images are courtesy of Lakefront Brewery.