What's Your Brewery Branding Image?
You've mastered the art of brewing your beer, so what comes next? How do you determine your brewery's brand?
There are many benefits to establishing a strong brand for your brewery. Creating a label and persona that is easy to recognize encourages customer loyalty and buy-in from the first moment they encounter your beer. The time you take to develop your unique brand often reflects the time and attention that is also put into your final product, which says a lot to your customers about the quality of your beer, in very few words.
Marketing your beer is much more than just brewing it; it's how you tell your story. But to share that story with your customer base, you first need to know what your story is. What is it about your brand that makes you, you?
Finding Your "Why"
Like superheroes, every brand has an origin story— that moment that sums up what inspired them to become who they are. Your origin story can play a key role in determining your brand identity and appealing to your audience. What is it about your brand that should make them choose you over someone else? Why should people care about your product? For example, if you are a local brewery with deep ties to the community, showing how you will give back or contribute locally can draw in customers.
If you're struggling to find what makes you unique, take a step back and look to your beer itself. You can draw a lot of inspiration about your vision from the product you have so painstakingly created. Look to the ingredients used—are they non-GMO, organic, or locally sourced? Is the location of your brewery something of historical significance to your community? Think of the types of beer you aim to brew—is your signature craft an ale? There might be a story behind why, and that will bring you inspiration.
Your "why" will connect customers to your product. It will attract new customers, as well as retain existing ones. People can be creatures of habit—if we find something we like and are comfortable with, we often don't deviate from that. As people learn and recognize your brand, they will continue to be drawn to your product line because of the symbols and look they recognize. You can show your story very simple on your label, but it has the power to establish brand loyalty in a matter of seconds.
People frequently mistake graphic design for branding. Remember, your brand is so much more than just that. Graphic design is the surface level appearance, but branding is deep and foundational; it delves into vision and voice.
More Than Just a Pretty Picture
We've all heard the old adage, "don't judge a book by its cover," yet most of us are terrible at following that. As consumers, we are drawn to a visual—particularly with products like food and beer—that we have to judge before we taste them. We rely on that outside package to give us insight as to what is inside.
Think of your logo like your face. It is the first thing people see when they meet you. For your customers, it is the first visual they will have for your brand. Many times we remember faces, but not the names that go with them. Imagine yourself at a dinner party surrounded by dozens of new people. To remember these new names, an interesting story or anecdote typically helps. Keep this in mind when it comes to your branding as well. A key visual element that will stick with your customer base can be critical for brand recognition.
Remember, your brand identity is much more than just your logo. You can begin there when seeking inspiration, but the logo, the colors, the fonts you use, they all weave together to establish your broader brand identity. Your brand identity is what will carry your product into the future, and continue to attract your customers.
How do you build and establish your brand identity? What guidelines should you follow to ensure your success? Olive & Co. has an excellent resource that includes 9 steps to create your brand identity guidelines that we can't recommend enough.
5 Tips and Tricks to Master Your Brewery's Branding
The average customer only spends about one second looking for what they want to buy, and another half-second finalizing their decision. This means you don't have much time to convince them that they should choose your beer.
As you work to establish your brand's design and logo, keep these key elements in mind to make you stand out amongst your competition.
1. Be Consistent with Your Packaging
Your package design matters. Remember to keep your design consistent. Your customers should be able to easily recognize your brand and relate to it when it's on the shelf amidst your competitors. Consistency is what will bring back your loyal customers, as they will know what to be looking for.
2. Pay Attention to Color
Color can serve as an easy way to quickly identify and differentiate your brand from the many others your customers will encounter in the cooler. Humans have a strong memory for color, and in time, they will begin to no longer read the name of the beer but simply grab the pack with the familiar color on it.
You can choose colors that are evocative of the flavor of your beer. Darker browns and earth tones, for example, could match well with a porter or stout. Blues and teals give the feeling of water and would mesh well with lighter brews. Color can also be used to tell your brand's story. Your color palette can reinforce the story of your brand and reflect the roots of your company.
3. Consider Your Brand's Tone
Every brand has a tone, and your packaging should match that as well. Think about your values, style, and what you want people to think about when they mention your brand. For example, if you're an eco-friendly brand, you should have eco-friendly packaging
4. Don't Forget About Fonts and Typography
Fonts are just as important as imagery when it comes to visual cues. What fonts do you want to use? Are they unique? Do they reflect your brand's personality?
If your brewery has a modern feel, a sans-serif font will likely be your best course of action. If you're looking to have a more elegant appearance, a hand-drawn script type would be an excellent font choice.
Remember that words play a key role in your design as well. They will occupy space in your logo and overall brand style and should be considered as well.
5. Find Your Experts and Utilize Them
When it comes to brewing your beer, you are the expert. You know what flavor profile you are looking for, and how to achieve that. But when it comes to your brand's look and design, seek out assistance when you can. There are a variety of talented people throughout your community who could help you on your quest for your perfect visual. And remember to think outside the box. Graphic designers are obviously a great starting point, but depending on your vision, reach out to tattoo artists, art students, photographers, etc. to help you develop and design a visual that matches your brand.
Some of the most unique brands feature artists on a rotating basis, their packaging and labels become collectors' items long after the beer has been consumed.
These Breweries Are Doing Branding the Right Way
Craft breweries these days can treat their brand design and their labels like unique artwork. Here are 5 breweries that have mastered their brewery branding image.
This brewery started with a strong name and needed a powerful visual to go with it. This single color design and strong geometric elements are equal parts strong and elegant.
Why does it work? Consider your brand's tone. With a name like Goldhawk, a strong visual comes to mind. Goldhawk was able to match their name to the strong and bold design and stay true to the tone of their brand.
When Gower Brewery wanted to expand their label, they came up with the Hoppy Seabird line. The new brand takes cues from Gower Brewery's label but has a bolder color palette and typeface.
Why does it work? Consistency. The bold design of the bird in Hoppy Seabird's logo not only reflects the design of their parent company, Gower, but it also remains true to each brew within the brand. While the color palette changes from brew to brew, the consistent look allows the customer to recognize the brand immediately.
North Carolina based Sycamore Brewing took one of Charlotte's most iconic images and wove it into their brand. Their color palette is simple, but the brand is clear to anyone seeking it out on the shelves.
Why does it work? Color. The colors of Sycamore Brewing's logo are evocative of the area of North Carolina where the brewery exists. While the colors are simple, they tell a story of the brewery's origin and match with the signature sycamore trees of the region.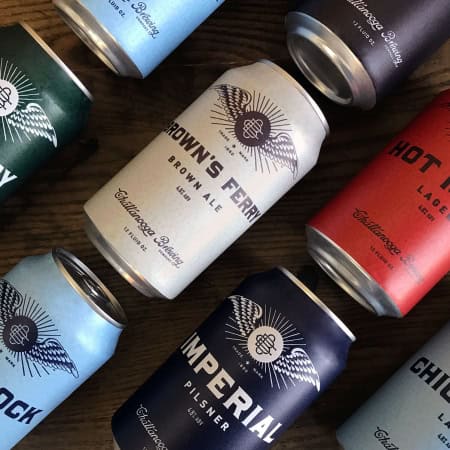 Chattanooga Brewing Company opened in 1890 and operated until 1915 when Prohibition forced them to close their doors. The brand was resurrected in 2010, and the history is proudly displayed in the brand's logo and color scheme. To reflect the rich history, the brand focused on strong colors and simple designs for its branding.
Why does it work? Typography and font. Because of the rich history of Chattanooga Brewing Company, the bold font choices play a key role in its branding. The strong, capital letters are a perfect nod to the pre-Prohibition era where this company has its roots.
Motel is a craft-brewery with no fixed address. It's founders hail from various spots around the globe and chose a design reflective of the many motels they have occupied over the years. The design has a vintage feel, and each beer has a different motel name to match.
Why does it work? Consistency and font choices. The simple font choice for Motel Beer doesn't stand out, but it's the consistent placement and use on the unique labels and varying artwork allow the brand to remain recognizable, and also unique on the shelves.
Now It's Your Turn, Brewer. Go Out There and BRAND!
Do you think you're ready to nail your brewery's branding image? We know that the visual arts aren't everyone's cup of tea (or should we say, bottle of beer?). Building a brewery brand image is hard work and it should be done right, with plenty of research, customer-focused design, and a comprehensive understanding of your WHY.
If you're not sure where to start, there are plenty of professionals out there that are ready and waiting to help you build your brewery's brand. From discovering your voice to writing branding guidelines and making your brand come to life, working with a branding professional ensures that your brand is one that speaks to your vision, reflects your mission, and shows your beer off for its best qualities.
CODO Design, a branding company that specializes in brewery branding, has an 18-chapter guide that walks you through the step-by-step process of building your brand so you can tell your story AND sell a lot of beer.
Dear brewer, we believe in you! Go out there and find your why, trust in your why, and tell your story! Remember, a brewery brand image is more than just pretty pictures and precision font choices. Find a way to make your story resonate with customers, both visually and emotionally, so they want to buy your beer again and again.
Visit our blog for more resources on craft beer, tips for brewers, and the latest craft beer trends. Happy branding!
---
Brewery product images via Oh Beautiful Beer. Featured image and post images via FreePik.