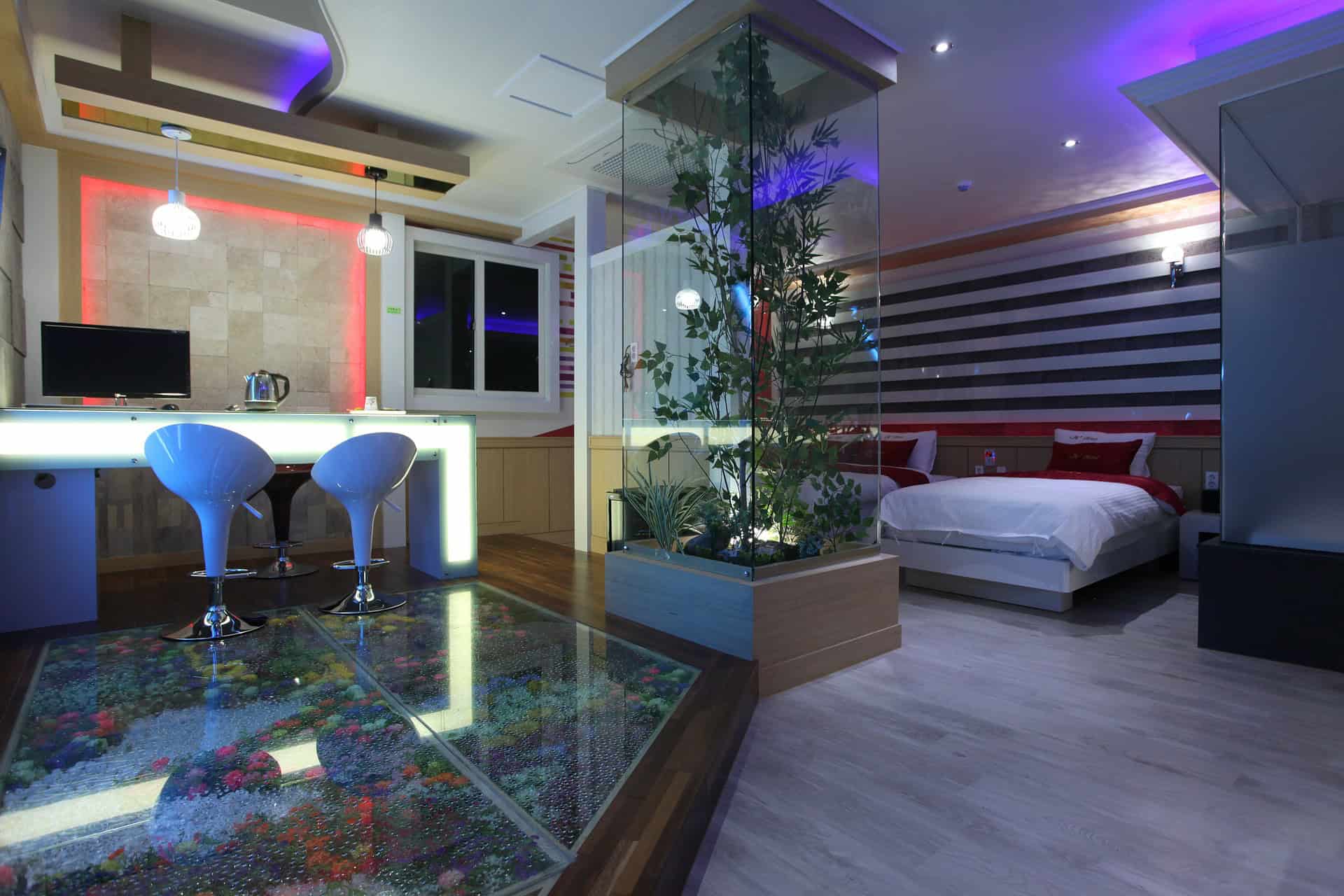 Quirky Hotels: What Hotel-Owners Can Learn from These Unique Spots
Trends in the hospitality industry continue to shift toward the eclectic as guests seek out new travel experiences.
With so many different lodging options available, customers are drawn to quirky hotels more than ever. Seeking a novel experience when booking a place for their extravagant vacation, relaxed staycation, or last-minute outing, the unique (and fun-to-share on social media) is appealing. From sustainable B&Bs to retro-themed lodges and underwater accommodations, quirky hotels create extraordinary memories to last a lifetime. Hoteliers everywhere can learn a great deal from these charming places to stay. Take wanderlust to the next level for your guests by learning more about every interesting aspect of these quirky hotels beating the competition.
Out-of-the-box boutique hotels accounted for 17 billion of the total revenue in the hotel industry for 2018 (and that was only in the United States). As various hospitality businesses continue to boom, it's the quirky hotels with the fun feel and unconventional vibes that continue to thrive and attract guests from everywhere. The global trend in quirky hotels continues to grow as patrons are consistently blown away by the unique environments and remarkable room amenities.
Aside from a nice place to sleep, these fun hotels become an integral part of the vacation experience. Many guests are drawn to these quirky hotels for their charming and unexpected qualities. B&Bs, luxury retreats, motels, boutique hotels, and more are hopping on the trend.
Whether your establishment is part of a big name hotel chain or you're running your own small business, quirky hotels offer hospitality professionals ideas for improvement. Check out these unusual hotels around the world for inspiration!
10 Unique Lodging Spots All Hotel-Owners Should Know
Some of the best quirky hotels attract guests from all over the world by using a surprise theme. This Peruvian bed and breakfast, located in the heart of the UK, encourages visitors to "experience a taste of Peru." From the Inca, Aztec, and Safari themed guest rooms to their special Barn Owl Cottage, the Llama's Pyjamas offers plenty of memorable experiences. They host unique activities too, like walking with the llamas that live on their grounds.
The owners of this far out, quirky hotel know how to think outside the box. Festive, authentic Peruvian décor in each suite and adventurous amenities like interactions with wildlife through animal encounters and zookeeper experiences, provide each guest with a rare lodging experience. This hotel is unlike anything else offered in England!
This off-the-beaten-path treehouse resort or tree-sort takes the status of a quirky hotel to a whole other level. The super cool establishment offers guests a unique opportunity to experience the forest and all its greenery while staying in state of the art, legitimate, and utterly breathtaking treehouses.
The innovative Oregon resort embraces the wilderness and togetherness as every visitor who stays with them happily finds their own place or temporary home in the 36 acres of private land and woods. Out 'n' About opens their doors to everyone: "the timid and adventurous, locals, and travelers." From calming sanctuaries to ziplining escapades and their infamous Tarzan swing, quirky hotels like this one grab the attention of guests with their inventive and original nature perks!
This foreign quirky hotel, with six different locations across Japan, is a hostel-type establishment best known for its wide assortment of books and fun sleeping accommodations. Visitors can reserve compact bunks hidden behind the massive bookshelves holding the hostel's infamous collection of over 3,000 good reads (available in both English and Japanese).
Each guest bunk features a power outlet, light, and a privacy curtain as well as access to a community bathroom facility open 24/7. Quirky hotels like this are a great example of perfecting one special element guests go crazy for. The added bonus of their diverse book collection is enough to intrigue patrons and persuade them to stay a hostel like this as opposed to a more well-known, larger hotel. Customers appreciate lodging that's different and this unusual destination provides just that.
Calling all devoted road trippers and explorers! This quaint, charming, and quirky hotel located in the small town of Bisbee, Arizona is just as adorable as it sounds! According to The Shady Dell owners themselves, this retro lodge originated in the 1920s as a place that visitors coming off of Highway 80 would turn to for lodging, including trailers and camping spaces.
Today, the unusual establishment is full of unexpected delights and personal thematic touches to give every guest the full vintage, 50s experience. "They're all completely decked out in vintage, period-appropriate décor. Instead of a coffee maker you get a percolator, and instead of a stove, you can cook out over charcoal grills," said Anna Hider of Roadtrippers. Quirky hotels like The Shade Dell encourage guests to take a walk down memory lane and enjoy the "off-beat" accommodations. Their commitment to a specific theme provides patrons with a one of a kind, immersive experience. Not to mention, the Instagram-friendly décor practically BEGS to be photographed and shared (encouraging plenty of free advertising and promotion).
Quirky hotels that take a walk on the wild side attract the adventure-seekers and wanderlust-driven travelers the hospitality industry lives for! The Capsule Hotel in the Netherlands is one of those unusual places, and they've found massive success in their creative rooming accommodations.
The Capsule Hotel suites are literally transformed old oil rig survival pods from the 1970s. Initially created as a fun art project, this European quirky hotel is now a favorite attraction spot amongst locals and tourists. According to Uniq Hotels, each "survival pod" can comfortably fit up to two guests total and the various rooming options range from a James Bond-themed suite to a luxury glamour capsule featuring a disco ball, television, and more! The Capsule Hotel is proof that quirky hotels who stick behind their one-of-a-kind ideas can succeed in the hospitality industry.
This "mom and pop" bed and breakfast joint is truly the definition of a quirky hotel. Their state-of-the-art guest house is located inside the World's BIGGEST beagle… statue. The 12-foot beagle statue named Toby and second biggest beagle statue in the world, Willy, were both built by the imaginative and artistic owners of the inn. Dennis Sullivan and Frances Conklin have been practicing chainsaw art for years and most importantly, don't take themselves too seriously; they firmly believe, "At Dog Bark Park Inn, sleeping in the doghouse is a good thing!"
Guests visit from all over to see the eye-catching pieces of art and spend a few nights inside! The theme carries on throughout the entire quirky hotel with dog embroidered throw pillows and various handcrafted dog carvings on the walls. This charmingly unique bed and breakfast displays the power of taking a somewhat strange, but fun idea and inventing something guests have never seen before.
Whitepod is on the more glamorous side of quirky hotels and categorizes itself as an "eco-luxury hotel" located in the heart of the swiss alps. Whitepod's main concept is to provide guests with a unique experience where hospitality and environmental conservation successfully coexist. At this charming resort, all food ingredients are locally sourced, most every necessity or activity is in walking distance, waste is recycled, and energy and water are always used responsibly.
Quirky hotels like Whitepod are focused on efficiency, encouraging guests to enjoy themselves while also helping the planet. Each of their rooms, or "pods," are heated suites that "combine ecology and luxury," and include cozy rugs, comfy beds, fireplaces, beautiful views, and more! The unexpected activities offered like dog sledding, snowshoe hiking, and ski touring all hold true to the authentic Switzerland experience. Quirky hotels like Whitepod give visitors the best of both worlds: the opportunity to do a good deed for the environment while also having fun.
The eye-catching Winvian Farm in Litchfield Hills, Connecticut features a variety of luxury cottages. A quirky hotel like Winvian Farm stands out for its many unusual lodging options including their surprising Helicopter suite. This special cottage is a renovated 1968 Sikorsky Sea King Pelican HH3F and maintains all its original charm while also offering guests a flat screen television, mini fridge for drinks, lounge area with a couch, and more.
Why stay in an average room when quirky hotels like this one let you stay in a literal helicopter?! Giving guests the opportunity to spend the night in an aircraft is certainly a showstopping way to increase business. While your hotel may not have a helicopter on premises, you can take a lesson from this quirky spot: unique establishments take an unexpected element and transform it into something awesome that guests love! The truly creative and unique helicopter cottage at Winvian Farm is sure to continue attracting new guests.
The best quirky hotels understand how to jump on the hotel trends guests are really interested in. The Angad Arts Hotel is an establishment known for embracing the use of color. Each guest who makes a reservation is paired with a certain color room based on their mood. Visitors choose their color and set the tone of their stay, allowing the colors to really influence their emotions.
From passion red to tranquility blue, rejuvenation green, and happiness yellow, the options for guests are fun and surprising. Moreover, they encourage guests to explore the purpose of their journey and what they hope to get out of their vacation. Located in the middle of the Grand Center Arts District in St. Louis, Missouri, a color themed lodging option is fitting. This quirky hotel encourages guests to "stay colorful" and embrace their emotions.
Clink is a funky and unique hostel established by two sisters from Dublin. They renovated an old courthouse, including many authentic elements and fun additions, establishing the business as a competitor on a global scale. The courthouse was where the famous punk band, The Clash, once stood trial. It was also a spot where Charles Dickens worked.
The unique hostel received its name Clink (slang for prison) because of its past use in history; according to the owners, the name was fitting due to the prison cells where guests can still stay today (but come and go at their own free will). This hotel was so successful, the sisters opened another Clink in Amsterdam, which is also a popular lodging spot. Both hostels are decorated with unique pieces and feature fun, historical surprises. This is a great example of taking a quirky spot and turning it into a great place to stay.
What Can Hotel Owners Apply to Their Own Establishments?
Hotel owners like yourself can learn a lot of helpful tips and tricks from these quirky hotels. They take a different approach toward running a hospitality business. Their unusual ideas and unexpected perks consistently increase guest satisfaction and delight customers around the world. Taking risks, thinking outside the box, and trying out unique themes are just a few of the best lessons quirky hotels can teach hoteliers.
Hospitality management is no easy job and what's popular today may not be tomorrow. Desired trends amongst guests are always changing and as favorites continue to shift, owners must stay up to date. As other housing options like Airbnb expand the market, even big hotels can learn from smaller, boutique-sized, quirky hotels. Whether you're a trendy city establishment or a local family-friendly hotel, playing up your strengths and switching up your normal routine will help you stand out amidst the competition.
"In an increasingly competitive environment, the way hotels react to guests' expectations has a dramatic impact on their profitability," said Jos Schaap, Founder and CEO of StayNTouch.
As a leader in the hospitality industry, you must understand the expectations of your guests and blow them away with your unique abilities. Take a page out of the quirky hotel book and don't be afraid to mix things up!
---
Featured image via Pixabay. All images licensed for use via CC Public Domain, CC 2.0, and Pixabay licensing.