4 Restaurant Employee Engagement Ideas to Build a Staff That Cares
It's no secret the restaurant industry's high turnover rates are directly related to low workforce engagement.
Boosting restaurant employee engagement can be notoriously challenging—but it's never impossible! In an industry that employs nearly 15 million workers, restaurants have a lot to gain with a good employee engagement strategy. Here's how to boost your workforce engagement (and profits) with these restaurant employee engagement ideas.
If you haven't worked in the restaurant industry, then you just don't know.
For anyone that's ever worked in the restaurant industry, this is a loaded statement.
The restaurant industry is rife with both good and bad stereotypes about the work and the workers, outrageous stories, and some rather extreme working conditions. For those who have worked for any amount of time in this economic powerhouse of an industry, then you know exactly what we're talking about.
Employee engagement—specifically increasing engagement to reduce turnover rates and boost profits—is a frequently discussed topic that concerns businesses in all industries. However, when it comes to the restaurant industry, employee turnover is both a common trend and a major issue.
According to a study conducted by Gallup, brands in the top 25% in employee engagement were 22% more profitable and 21% more productive than the rest of the competition.
Restaurants that have a highly engaged workforce are more successful in nearly every way. An engaged restaurant staff boosts profits by providing better service, selling more items, efficiently reduces waste, and (perhaps most importantly) can create unique and memorable guest experiences.
An un-engaged staff spells disaster, leading to high turnover rates, staff shortages, and wasted time and money in hiring and training new staff.  A study from Cornell University's Center for Hospitality Research estimated that it costs businesses $5,864 for every employee lost.
Restaurants with engaged employees outperform those with low employee engagement by over 202%!
With this in mind, let's discuss a few restaurant employee engagement ideas that you can use to help improve your employee engagement and your profits!
4 Restaurant Employee Engagement Ideas to Build a Staff That Cares
What exactly is an engaged employee?
Engaged employees are emotionally committed to their jobs. They care about the success of their restaurant and their co-workers, in addition to their own personal success. When restaurant employees care deeply about their jobs, they work hard to contribute to the overall success of the company.
In fact, seven out of ten restaurant employees claim they would work harder if they feel their efforts are recognized by upper management.
Consider the Engagement-Profit Chain model:
Higher service, quality, and productivity lead to…
Higher customer satisfaction, which leads to…
Increased sales (repeat business and referrals), which leads to…
Higher profits for the business.
It's clear that boosting employee engagement at your restaurant will improve the quality of service given to customers and start a chain reaction of profit generation.
So, how do you achieve this in your restaurant workforce?
Most restauranteurs understand just how difficult achieving and maintaining restaurant employee engagement strategies can be. No matter what stage your restaurant business is currently in, from a new concept to an established regional icon, these restaurant employee engagement ideas are a great way to start boosting moral.
1. Get Your Staff Involved
One of the best (and easiest) ways to improve your workforce's engagement is to ask for their input. It's a fairly simple formula: Ask what matters to them, listen and collect feedback, then act on it.
For this to truly work, you can't ask your staff for their ideas and feedback, and then not act on it. Paying lip-service is a surefire way to damage your workforce's morale, while possibly setting off a chain reaction of turnover.
This workforce engagement strategy is extremely effective because it's inclusive, stimulates creativity, and encourages both strategic thinking and problem-solving. The most appealing element of this strategy is that it makes your staff feel invested because you asked them what they thought and how they felt.
People want more out of life. They want to do more than to simply make money; they want to impact change. People want to enjoy what they do, especially their work.
This is why asking for your staff's feedback can be so powerful. It helps each individual to feel involved in something greater. It helps build a healthy workplace environment and create a sense of family. It can also significantly improve your restaurant's sales and profits, online reviews, streamline processes, and help reduce costs associated with wasteful practices.
Ultimately, it's not you, the owner, that makes your restaurant successful. It's your staff.
2. Reward Hard Work and Show Appreciation
Restaurant work is tough. Often, it can feel repetitive, endless, and (worst of all) thankless. Not everyone is cut out for this line of work, which does attribute to restaurant turnover. Even for the seasoned veteran restaurant industry worker, the job is still hard physically, mentally, and emotionally.
Rewarding hard work and showing your appreciation are very effective employee engagement strategies. Yes, increasing pay and offering cash bonuses definitely help—but not every restaurant owner can afford to do this, nor are these terribly effective motivators by themselves.
Some great workforce engagement ideas include benefits such as offering more time off (especially paid), one free meal per shift, flexible scheduling, and simply acknowledging and thanking them.
Recognition events that celebrate a workforce staff's teamwork and effort are another excellent way to help create engagement while nurturing positive attitudes across your restaurant family. Standout achievements and example employees can also be recognized and rewarded at these events.
Other external motivators like gift cards and vacation make excellent prizes and work towards creating more employee engagement through recognition.
It's important to remember that management plays a key role here, as well. A negative, bossy, or inconsiderate manager cannot be tolerated. Many restaurants that could have been successful have failed because of poor management.
Your management is responsible for establishing and maintaining a positive work atmosphere. They can (and should always) be looking for and rewarding your staff's hard work. This is especially important during busy shifts, when dealing with difficult customers, or even during slow periods when people aren't making as much money.
Empower your management to reward and acknowledge your staff and your managers to help them stay engaged.
3. Provide Ongoing Professional Development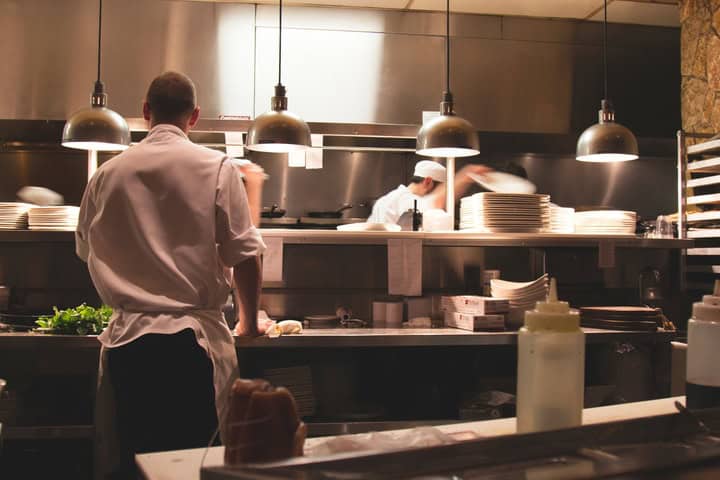 A dead-end job isn't appealing to very many. As soon as an employee believes they've hit the glass ceiling, a decline in employee engagement begins. This negatively influences the workplace atmosphere and culture, and will eventually drive them to seek other employment.
You should always be on the lookout for employees who want more out of their careers and provide them with the opportunity to develop.
Professional development is incredibly important to everyone in the workforce, from barbacks and line cooks to managers, head chefs, and CEOs. This is an excellent way to increase and maintain long-term employee engagement because you're supporting them beyond the traditional employer-employee system.
Providing opportunities to work their way up the ladder or cross-training employees who want to learn a new skill set enables them to develop new strengths in other roles. Offer assistance and support to send employees to education programs.
If you're able to provide any sort of monetary assistance to employees who are learning career skills that will benefit your restaurant business in some way, it would be foolish not to support them.
This also has the additional benefit of increasing retention, as the employee will be less likely to look for other employment options. When people are given the opportunity to learn and grow while increasing their earning potential, they naturally become more engaged and invested in a company.
4. Promote Wellness
Another great restaurant employee engagement idea is to promote wellness, both in and out of your restaurant.
The restaurant industry frequently sees over-worked, exhausted, and just plain burnt-out employees due to the intense demands placed upon them daily. Servers multi-task constantly, juggling multiple tables' needs with timing, ordering, and side work. Bartenders are always "on" and in front of guests for long periods of time, while making drinks for the entire restaurant, cleaning, and restocking. Cooks must deal with multiple orders on multiple tickets, as well as the particulars of each and every single dish made, impatient servers (and customers), food prep, cleanup, and kitchen safety.
To sum it up, working in the restaurant industry can sometimes feel as though it borders on madness, which is why promoting health and wellness are so vital to your staff.
This can be achieved in many ways, from providing free local gym passes to quick pre-shift yoga sessions. Access to (and discounts on) chiropractic services and massage are amazing compensation to staff who spends long hours on their feet running back and forth on hard floors.
Even providing discounts on shoes, shoe inserts, and frequent shoe replacement can make a huge difference to a restaurant employee.
When it comes to boosting your restaurant employee engagement, these ideas are a great starting point. But don't stop here—be innovative in your solutions.
Improving employee engagement can be as simple as sharing a few kind words, offering a free meal, supporting professional development, or even providing free gym memberships. The effort can make all the difference in the world to your staff.
Increasing workforce engagement isn't just about money, though it's still important. By supporting your employees in their work and personal lives, you will both reap the rewards.
Visit our blog for even more restaurant industry ideas, tips, trends, and best practices!
---
Featured image and post images licensed for use via Pxhere.